Titans Jacob Kiplimo and Joshua Cheptegei Set to Clash at This Weekend's NYC Half Marathon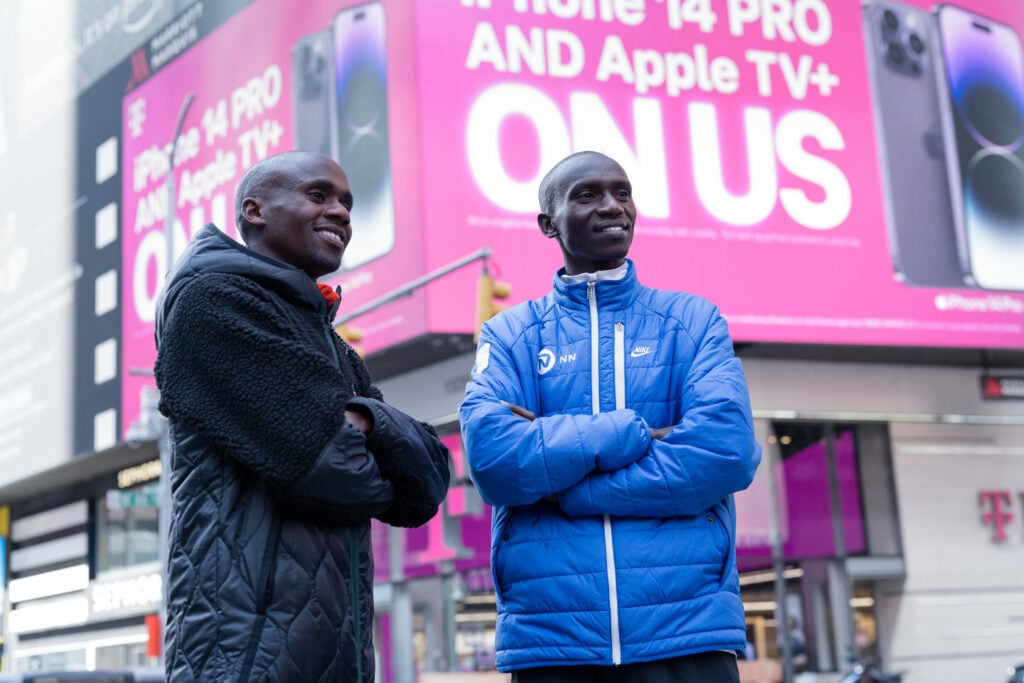 By David Mont, @d9monti
April 16, 2023
(c) 2023 Race Results Weekly, all rights reserved
NEW YORK (16-Mar) — Standing in Times Square this morning, Jacob Kiplimo and Joshua Cheptegei looked like any other tourists visiting one of this city's most famous landmarks.  Their hands thrust into their jacket pockets to ward off the late winter cold, the two Ugandans took in the sights while engaging in friendly conversation and taking a few selfies.  Neither had ever been to New York City.
But on Sunday at the 16th edition of the United Airlines NYC Half, America's largest half-marathon with about 25,000 finishers, they will return to their more familiar roles as rivals.  Kiplimo, 22, the reigning World Athletics half-marathon and cross country champion, and Cheptegei, 26, the reigning Olympic and World Athletics 10,000m champion, will face each other again just 29 days after the World Athletics Cross Country Championships in Bathurst, Australia.  There –in hot, humid and windy conditions– Kiplimo won the gold medal in a last-lap breakaway relegating Cheptegei, who was the event's reigning champion, to the bronze medal position.  Both are savoring the chance to race head to head again, but their rivalry is clearly a friendly one.
Article continues below player
Like our coverage from Albuquerque?
Supporters club members get all the LetsRun content, savings on running shoes, and their support
ensures
LetsRun.com has on-site coverage from the biggest Athletics events in the world. Use code
CLUB25
to save 25%. And follow us on social media:
"I'm happy to be competing together with Joshua," said Kiplimo, the world record holder for the half-marathon, with a relaxed smile.  He beat Cheptegei in 2020 World Athletics Half-Marathon Championships where he was the surprise gold medalist and Cheptegei finished fourth in his first and only half-marathon.  He added: "On Sunday we're going to try our best, I'm going to try my best."
Cheptegei said, "absolutely, yes," when asked if he was motivated to race against Kiplimo.  "I would really give everything to win," he told Race Results Weekly. "But you never know what goes in the race."
According to the respected statistics website Tilastopaja Oy, Cheptegei has a 6-0 record over Kiplimo in track races at 5000m and 10,000m.  In the half-marathon, Kiplimo won in their only meeting, and at the World Athletics Cross Country Championships they are tied 1-1.  Cheptegei was the gold medalist in Aarhus, Denmark, in 2019 where Kiplimo took the silver.
But their biggest rival on Sunday just might be the course.  When the race debuted as a summer event back in 2006, the course went from Engineers' Gate in Central Park to a stretch of the West Side Highway just north of Battery Park in lower Manhattan.  Runners enjoyed a total elevation loss of 30 meters, and in the final 10 kilometers the athletes were often helped by a tailwind as the prevailing winds in New York City come from the north and west.  But in 2018 New York Road Runners changed the course to encompass more of the city's residential neighborhoods, and it now goes from Prospect Park in Brooklyn to Central Park in Manhattan.  The opening nine kilometers feature several significant hills, including a steep climb up the Manhattan Bridge where the runners cross from Brooklyn to Manhattan.
"I saw in the TV that some is a little bit tough," Kiplimo said of the course.  He added: "I think it will be very difficult, but actually for me it's not so difficult because we'll just be running up and down. It's almost the same (as) World Cross."
Cheptegei, who has reached the point in his track career that he has begun thinking about his marathon debut, didn't seem too worried about the course and was already looking ahead to a possible run at the TCS New York City Marathon which also has a hilly course.
"They haven't told me so many things about the course," Cheptegei said.  "They told me about the New York full marathon course, where the race is mostly decided, especially on the climb."  He continued: "About Sunday, really excited to run my second half-marathon.  I've really thought about it, and maybe in the future when I go to marathons maybe New York can be my final destination."
Both men said they had recovered well since their race in Bathurst, and Cheptegei said he had picked up some additional fitness.
"I think I had a lot of time to recover," he said.  "I had to continue with my training because I was sure that I was actually going to be invited for the New York Half-Marathon.  Everything has been going along well.  My shape is actually better than cross country so I hope that I can run a good half-marathon."
NYRR is offering a $120,000 prize money purse for Sunday's race.  Twenty-thousand dollars will be paid to the winners in the open male and female categories, while the wheelchair winners will receive $4,000.  There is special prize money for NYRR members in the male, female and non-binary categories ($1500 for each category winner).
This year's United NYC Half comes three years after the 2020 race was abruptly cancelled at the outset of the pandemic.  The 2021 edition of the race was also cancelled, and in 2022 the race was held at nearly full capacity with 22,335 finishers recorded.  NYRR's new president and CEO, Rob Simmelkjaer, was clearly excited to oversee his first major event since becoming the organization's head in December, 2022.
"We can't wait to welcome 25,000 runners to the starting line," said Rob Simmelkjaer, who pronounces his last name SIM-el-care.  He continued: "People are running more now than ever before."
Who wins the 2023 United Airlines NYC Half?
Your vote has been counted. Thank you!
– – – – – – –
The 2023 United Airlines NYC Half will be broadcast locally by WABC-TV channel 7 as part of their Sunday morning news broadcast.  The pro races, which begin at 7:00 a.m. local time, can be streamed on both the NYRR's Facebook (https://twitter.com/nyrr) and Twitter (https://twitter.com/nyrr) pages, and will also be available via the ESPN app and the WABC website (https://abc7ny.com/)
Pro Fields Below: Discussion: NYC Half Who You Got? – Jacob Kiplimo vs Joshua Cheptegei, Rupp, King Ches + Helen Obiri vs Teferi, Huddle
Men's Open Division
Name   Country   Residence    Personal Best      Pronunciation
Jacob Kiplimo UGA Bukwo, UGA 57:31 WR (Lisbon, 2021) Kip-LEE-mo
Kennedy Kimutai KEN Lessos, KEN 58:28 (Valencia, 2021) Kim-Ooh-Tie
Joshua Cheptegei UGA Kapchorwa, UGA 59:21 (Gdynia, 2020) Chep-Tuh-Guy
Marofit Mourad MAR Flushing, N.Y. 59:33 (Valencia, 2016) Ma-Raw-Fit Mow-Rad
Galen Rupp USA Portland, Ore. 59:47 (Ostia, 2018)
Teshome Mekonen USA New York, N.Y. 1:00:02 (Valencia, 2018) Tay-Show-May May-Ko-Nen
Edward Cheserek KEN Flagstaff, Ariz. 1:00:13 (Valencia, 2022) CHEZ-ur-wreck
Juan Luis Barrios MEX Mexico City, MEX 1:00:46 (Marugame, 2015)
Maru Teferi ISR Kiryat Ata, ISR 1:00:52 NR (Tallinn, 2019) Mah-Roo Tuh-Fair-Y
Chris Thompson GBR London, GBR 1:01:00 (Great North Run, 2012)
Frank Lara USA Boulder, Colo. 1:01:00 (Valencia, 2021)
Zouhair Talbi MAR Oklahoma City, Okla. 1:01:08 (Houston, 2023)
Rory Linkletter CAN Flagstaff, Ariz. 1:01:08 (Houston, 2022)
Nico Montanez USA Mammoth Lakes, Calif. 1:01:13 (Hardeeville, S.C., 2021)
Belay Tilahun ETH Addis Ababa, ETH 1:01:22 (Dire Dawa, 2011) Be-Lay Till-Ah-Hoon
Reed Fischer USA Boulder, Colo. 1:01:37 (Houston, 2022)
Kensuke Tsubara JPN Tokyo, JPN 1:01:51 (Ageo, 2022) Ken-Su-Kay Soo-Buh-Ruh
Yuto Akahoshi JPN Tokyo, JPN 1:02:00 (Ageo, 2022) Yoo-Toe Ah-Ka-Ho-She
Ben True USA West Lebanon, N.H. 1:02:10 (NYC Half, 2022)
Andy Butchart GBR Edinburgh, GBR 1:02:59 (Greenwich, 2022)
Connor Winter USA Boulder, Colo. 1:03:43 (Houston, 2023)
Giovanni Grano ITA Ithaca, N.Y. 1:04:06 (Verona, 2020)
Women's Open Division
Name   Country   Residence    Personal Best      Pronunciation
Hellen Obiri KEN Kisii, KEN 1:04:22 (RAK, 2022) Oh-Beer-E
Senbere Teferi ETH Addis Ababa, ETH 1:05:32 (Valencia, 2019) Tuh-Ferry
Jessica Warner-Judd GBR Loughborough, GBR 1:07:19 (Houston, 2023)
Molly Huddle USA Providence, R.I. 1:07:41 (NYC Half, 2016)
Karoline Bjerkeli Grøvdal NOR Oslo, NOR 1:08:07 (NYC Half, 2022) Beer-Kelly GRAV-doll
Dakotah Lindwurm USA Burnsville, Minn. 1:09:36 (Houston, 2022)
Natasha Wodak CAN Vancouver, CAN 1:09:41 (Houston, 2020)
Maggie Montoya USA Boulder, Colo. 1:10:06 (Houston, 2020)
Erika Kemp USA Boston, Mass. 1:10:14 (Houston, 2023)
Annie Frisbie USA Hopkins, Minn. 1:10:14 (NYC Half, 2022)
Desiree Linden USA Charlevoix, Mich. 1:10:34 (Naples, 2011)
Jeralyn Poe USA Flagstaff, Ariz. 1:10:39 (Mesa, 2023)
Lanni Marchant CAN Denver, Colo. 1:10:47 (Nashville, 2014)
Diane van Es NED Rotterdam, NED 1:10:50 (Breda, 2022)
Jane Bareikis USA Crestwood, Ill. 1:13:09 (San Jose, 2022)
Mia Behm USA Pelham, N.Y. 1:14:45 (Philadelphia, 2022)
Gabrielle Yatauro USA New York, N.Y. 1:15:59 (Brooklyn Half, 2022)
Lily Anderson USA Brooklyn, N.Y. 1:16:14 (Brooklyn Half, 2022)
Alyssa Salese USA Huntington, N.Y. 1:17:26 (Brooklyn Half, 2022
Discussion: NYC Half Who You Got? – Jacob Kiplimo vs Joshua Cheptegei, Rupp, King Ches + Helen Obiri vs Teferi, Huddle