Team USA score: U.S. advances in World Baseball Classic as Mike Trout delivers against Colombia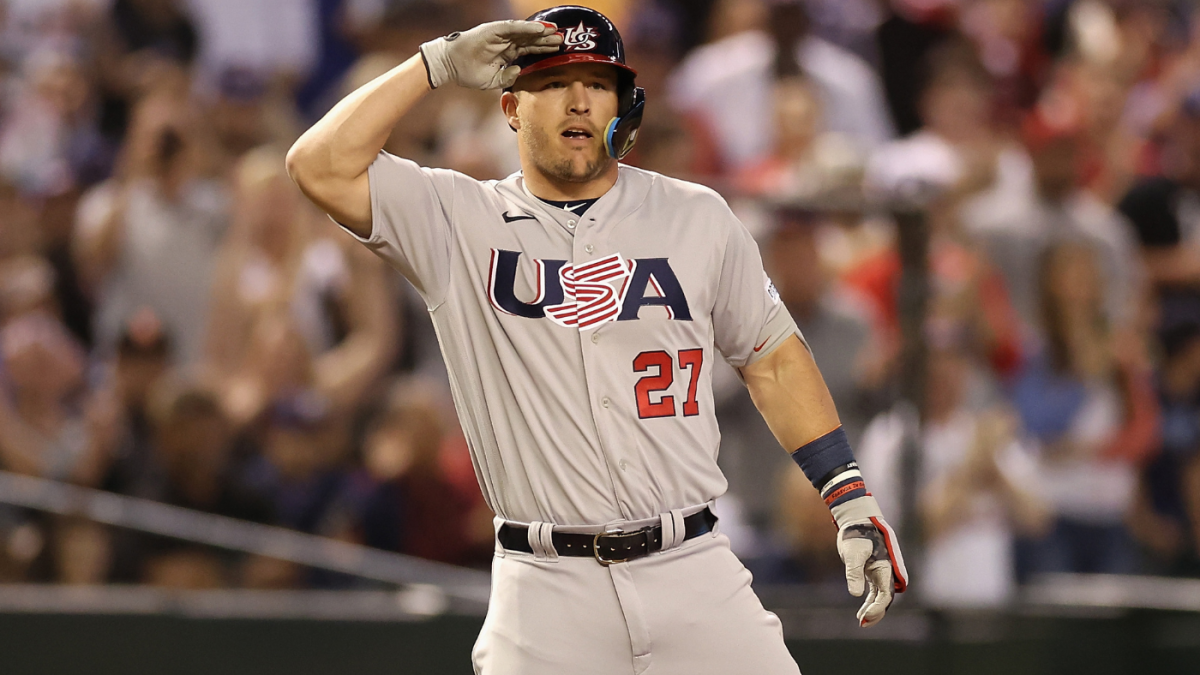 PHOENIX — It was win and move on Wednesday night for Team USA against Colombia in the 2023 World Baseball Classic and USA answered the call. Barely. USA won 3-2 thanks in large part to Mike Trout (you may have heard of him). The Americans will next face Venezuela in the quarterfinals on Saturday in Miami.
Let's take a look at how it went down at Arizona's Chase Field on Wednesday.
The Mike Trout Game
After his third at-bat, I started picturing Mike Trout doing a wrestling-style promo where he says something like "just in case you've forgotten who the hell I am …" The best position player in the world was the best player in this game. 
Trout tripled off the center-field wall in the first inning but was stranded on third base. Next at-bat, he singled home Mookie Betts with two outs for the first run of the game. Next time up it was the top of the fifth with USA trailing 2-1. Runners were on second and third. Yep, Trout did his thing again. 
It's also worth mentioning that in the bottom of the third, Colombia had already scored two runs and Meibrys Vilora sent a rocket to right-center that could have added another run. Instead, Trout ran it down for the final out of the inning. 
Trout went 3 for 4 with a triple and all three USA RBI. If there were such a thing, he'd have been the game MVP in unanimous fashion. 
We should point out Mookie Betts did his job in getting on base twice in front of Trout, scoring two of the three USA runs. Give Betts credit, but this game was mostly all about Trout carrying the USA offense. 
USA fell behind again
USA finished pool play 3-1, but fell behind in three of its four games. The lone exception was when USA scored nine runs against Canada in the first inning. Moving to the quarterfinals and, possibly, beyond, USA will face much stiffer competition and it would behoove them to quit playing from behind. 
The offense was lacking
There were certainly some loud outs and foul balls. Betts and Nolan Arenado both hit homer-distance fouls balls down the left-field line. Arenado's inning-ending double play in the first inning was well struck. Arenado and Kyle Schwarber both flew out to the warning track. Betts and Trea Turner lined out sharply to left field. 
All this is to say that the offense probably collectively swung the bats better than three runs on seven hits sounds. 
Still, it was only three runs on seven hits against a pitching staff with hardly any major-league caliber talent. The only extra-base hit was Trout's triple. 
We've been watching baseball long enough to know it's not a game of small samples and we shouldn't make any sweeping judgments based upon said samples. Saying the USA offense is bad or even mediocre when it's actually loaded would be folly. Still, this is a tournament of small samples and, just to name one example, Japan has barely been challenged. USA isn't playing to its potential on the offensive end, save for that one huge rally against Canada. Perhaps it'll change next round. 
Rough start for Kelly, but the bullpen delivered
The big weakness for Team USA heading into the World Baseball Classic wasn't really in question. It's the starting pitching. Diamondbacks' righty Merrill Kelly is 34 years old and has never been an All-Star and he got the ball in a game USA really needed to win. In three innings of work, he coughed up two runs on four hits and two walks against just one strikeout. It wasn't a strong performance. Then again, he didn't get crushed, either, and USA certainly should have provided more support. 
As for the line of relievers who followed Kelly, they were mostly great. Kendall Graveman gave up a single but erased it with a pickoff to end his scoreless inning. Daniel Bard worked around a walk. David Bednar and Jason Adam were outstanding. Devin Williams and Ryan Pressly shut the door.
Next up for USA: Venezuela
Venezuela went 4-0 in its pool, beating Puerto Rico, the Dominican Republic, Israel and Nicaragua. The Venezuela roster includes a lot of familiar names, such as Jose Altuve, Ronald Acuña, Miguel Cabrera, Salvador Perez, Anthony Santander, Luis Arraez, Andrés Giménez, Eugenio Suárez, Gleyber Torres and, well, you get the point. They are loaded. 
Adam Wainwright, who started the USA opener, figures to get the ball again on the mound, but nothing has been made official just yet.