Military Equipment Traveling Back to U.S., Contrary to Social Media Posts – FactCheck.org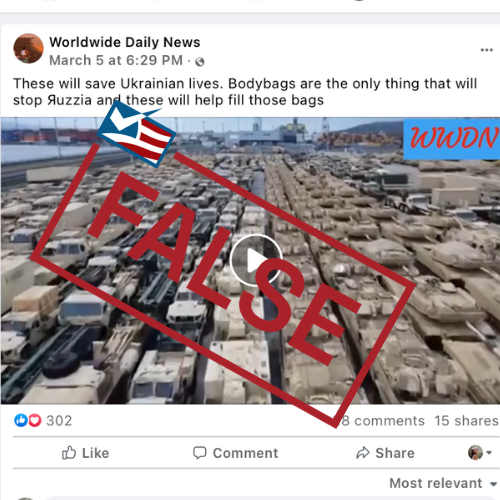 Quick Take
A U.S. Army combat team recently completed its European deployment as part of Operation Atlantic Resolve, a series of military exercises in support of NATO. The brigade has returned to Fort Hood, Texas, and its equipment will follow. But social media posts falsely claim the equipment shown in a video is "arriving in Europe" to aid Ukraine.
---
Full Story
As the Russian invasion of Ukraine passed its one-year anniversary in late February, U.S. aid to the nation continues. 
Congress authorized about $113.1 billion in funding for Ukraine in 2022, as we have explained. According to the Committee for a Responsible Federal Budget, the majority of the support – about $67.1 billion – was for defense-related spending. The other $46 billion provided economic support, assistance for refugees, international disaster assistance, aid for Europe, Eurasia and Central Asia and other nondefense spending. 
On Jan. 25, President Joe Biden announced that the U.S. would supply Ukraine with 31 M1 Abrams tanks and eight M88 recovery vehicles, which are designed to aid in the operation and recovery of Abrams tanks. 
"Ukrainians are fighting an age-old battle against aggression and domination. It's a battle Americans have fought proudly time and again, and it's a battle we're going to make sure the Ukrainians are well equipped to fight as well," Biden said.
While some Republicans, including Senate Minority Leader Mitch McConnell, have emphasized their continued commitment to helping Ukraine, others have cautioned against what they describe as a "blank check" approach.  
"Ukraine is important, but at the same time it can't be the only thing [the Biden administration does] and it can't be a blank check," Kevin McCarthy told Punchbowl News shortly before being elected House speaker. He instead called for greater emphasis on issues like immigration. 
Other Republicans have taken their critique a step further. In a statement to Fox News commentator Tucker Carlson on March 13, Florida Gov. Ron DeSantis said that "while the U.S. has many vital national interests … becoming further entangled in a territorial dispute between Ukraine and Russia is not one of them." The governor's stance has faced intraparty pushback. 
In addition to the criticism of Biden's approach to Ukrainian aid, false claims about military support to the nation have circulated on social media.
In a March 5 Facebook post, right-wing influencer Ryan Fournier described a video showing rows of military vehicles as depicting "NATO equipment arriving in Europe."
"You've got to be kidding me… this is what we are giving to Ukraine. BAD idea and a huge moment of escalation," Fournier incorrectly claimed. 
Fournier later corrected his Facebook post. Similar inaccurate claims about the video, however, continue to appear on social media, including a Truth Social post by Citizen Free Press and a tweet by conservative commentator Graham Allen. 
The posts misrepresent what is shown in the video. The military equipment was being prepared for its return to the U.S., not for shipment to Ukraine. 
The video can be seen in a March 4 tweet by Baltic Security, an organization that provides information about "military activities on NATO's Eastern Flank," including in Poland and Baltic states. The equipment belonged to the 3rd Armored Brigade Combat Team, 1st Cavalry Division — known as the "Greywolf troopers" — and had been stationed at the Port of Gdynia, Poland, "in preparation for redeployment to the continental United States."
The U.S. Fleet Forces Command provided additional context in a Facebook post showing the video. The post explained: "The approximately 1,600 pieces of Army gear needed to be cleaned and inspected prior to loading on the American Roll-On-Roll-Off Carrier (ARC) Endurance, a ship on-hire to Military Sealift Command with the capability to provide transport of heavy vehicles."
The Greywolf troopers began rotating back to Fort Hood, Texas in January, formally transferring authority to the 2rd Armored Brigade Combat Team, 1st Cavalry Division. The last flight arrived home on March 7.
While in Europe, the brigade worked as part of Operation Atlantic Resolve to express U.S. "commitment to NATO" by "building readiness, increasing interoperability and enhancing the bonds between ally and partner militaries." Operation Atlantic Resolve was launched in 2014 in response to Russian aggression in Ukraine, including Russia's illegal annexation of Crimea and military presence in southern Ukraine.
---
Editor's note: FactCheck.org is one of several organizations working with Facebook to debunk misinformation shared on social media. Our previous stories can be found here. Facebook has no control over our editorial content.
Sources
Santora, Marc and Richard Pérez-Peña. "Protests and Defiance Mark a Year of Russia's War on Ukraine." New York Times. 24 Feb 2023. 
Committee for a Responsible Federal Budget. "Congress Approved $113 Billion of Aid to Ukraine in 2022." 5 Jan 2023.
Gore, D'Angelo. "Biden's April 2022 Remark About Some Ukraine Aid Covering Pensions Is Not 'Breaking' News." Factcheck.org. Updated 23 Feb 2023. 
Spengler, Matt. "Posts Misquote Biden's Year-Old Remarks on Tanks for Ukraine." Factcheck.org. 13 Feb 2023. 
Vergun, David. "Biden Announces Abrams Tanks to be Delivered to Ukraine." U.S. Department of Defense. 25 Jan 2023. 
Woody, Christopher and Jake Epstein. "Ukraine is getting a new heavy-duty armored vehicle to haul its damaged tanks off the battlefield, US officials say." Business Insider. 25 Jan 2023. 
Biden, Joe. "Remarks by President Biden on Continued Support for Ukraine." White House. 25 Jan 2023.
Freking, Kevin. "GOP leaders start laying groundwork for more Ukraine aid." AP News. 14 Feb 2023. 
McConnell, Mitch. Press Release: "ICYMI: McConnell Remarks at Munich Security Conference." Senate.gov. 17 Feb 2023. 
Punchbowl News Staff. "McCarthy on debt limit, immigration, and Ukraine." Punchbowl News. 18 Oct 2023. 
Forrest, Jack. "DeSantis saying Ukraine support is not 'vital' national interest sparks backlash in GOP." CNN. 15 Mar 2023. 
Sommer, Will. "Students for Trump Founder Ryan Fournier Ratted Out Friend To Feds." Yahoo News. 11 May 2021. 
"Citizen Free Press." Media Bias Fact Check. Updated 31 Jan 2023. 
Baltic Security (@balt_security). Equipment Belonging to the U.S. Army Staged at the Port of Gdynia, Poland. Twitter. 4 Mar 2023.
1st Cavalry Division. Greywolf Troopers Welcomed Home. Facebook. 5 Jan 2023.
U.S. Fleet Forces Command. Transportation Battalion Preparing Equipment for Transport to Texas. Facebook. Accessed March 17 2023.
3rd Armored Brigade Combat Team, 1st Cavalry Division. Greywolf Troopers Pass Mission to Black Jack Troopers. Facebook. 4 Feb 2023.
3rd Armored Brigade Combat Team, 1st Cavalry Division. Last Flight of Greywolf Troopers Arrive in Fort Hood. Facebook. 9 March 2023.
"ATLANTIC RESOLVE." U.S. Army Europe and Africa. Accessed 17 Mar 2023.
Greenway, Stephen. "Rethinking Atlantic Resolve: An Alternative Model for Deterrence in Europe." Modern War Institute. 21 Jan 2021.
United Nations. Press release. "General Assembly Adopts Resolution Calling upon States Not to Recognize Changes in Status of Crimea Region." 27 Mar 2014.