How to Watch Team USA Vs. Cuba in 2023 World Baseball Classic Semifinal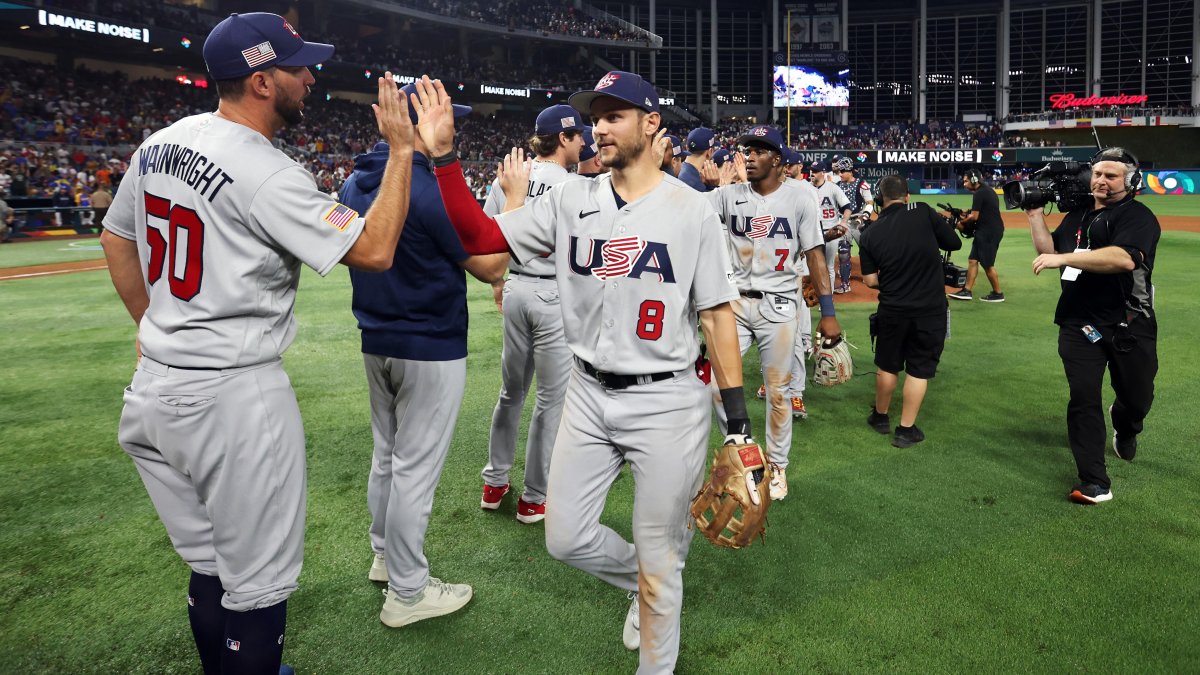 How to watch Team USA vs. Cuba in World Baseball Classic semifinal originally appeared on NBC Sports Philadelphia
Two more wins.
That's what is required of Team USA if they hope to repeat as World Baseball Classic champions for the second straight tournament – and it starts Sunday.
Team USA will be coming off the adrenaline rush from a thrilling quarterfinal finish against Venezuela on Saturday, with Trea Turner's eighth-inning Grand Slam propelling them to a 9-7 win. 
Their opponents will be Team Cuba, which hasn't played in the tournament since beating Australia 4-3 in the quarterfinals on Wednesday. Cuba finished atop the most parity-filled pool in the tournament, as all five nations – Italy, Netherlands, Panama and Chinese Taipei – finished with a 2-2 record. Cuba advanced in first place due to allowing the fewest runs (15).
Here's what to know ahead of Sunday's big game:
When is the Team USA vs. Cuba WBC game?
Team USA and Cuba will face off on Sunday, March 19.
What time does the Team USA vs. Cuba WBC game start?
The first pitch at loanDepot Park in Miami, Fla., is set for 7 p.m. ET. 
What channel is the Team USA vs. Cuba WBC game on?
FOX Sports 1 will broadcast the U.S.-Cuba WBC semifinal.
How to stream the Team USA vs.Cuba WBC game 
The U.S.-Cuba game will also be available to stream on FOXSports.com and the FOX Sports app.
Who are the starting pitchers for the Team USA vs. Cuba WBC game?
St. Louis Cardinals pitcher Adam Wainwright is getting the nod from manager Mark DeRosa vs. Cuba. The 41-year-old started in Team USA's Pool C opener vs. Great Britain where he pitched four innings and posted a stat line of five hits allowed, one run (home run), one error and four strikeouts. He threw 49 pitches and logged strikes on 36 of them.
For Cuba, Chicago Cubs pitcher Roenis Elias is Wainwright's opponent. He started in Cuba's 6-3 to Italy in the second Pool A game. Elias pitched five innings and three strikeouts, two hits and no runs on 67 pitches (47 strikes).
What is Team USA's starting lineup vs. Cuba?
1. Mookie Betts, RF
2. Mike Trout, CF
3. Paul Goldschmidt, 1B
4. Nolan Arenado, 3B
5. Kyle Tucker, LF
6. Tim Anderson, 2B
7. Kyle Schwarber, DH
8. J.T. Realmuto, C
9. Trea Turner, SS
What is Cuba's starting lineup vs. Team USA?
1. Ronald Bolanos, LF
2. Yoan Moncada, 3B
3. Luis Robert Jr., CF
4. Alfredo Despaigne, DH
5. Erisbel Arruebarruena, SS
6. Yoelkis Guilbert, RF
7. Ariel Martinez, C
8. Yadir Drake, 1B
9. Yadil Mujica, 2B
Who will the winner of the Team USA vs. Cuba WBC game play in the final?
The winner of the U.S.-Cuba game will await which nation advances from the other semifinal: Japan vs. Mexico. That game is set for Monday, March 20, with first pitch slated for 7 p.m. ET.