Betting on golf: How to wager on the PGA Tour, LIV Golf and more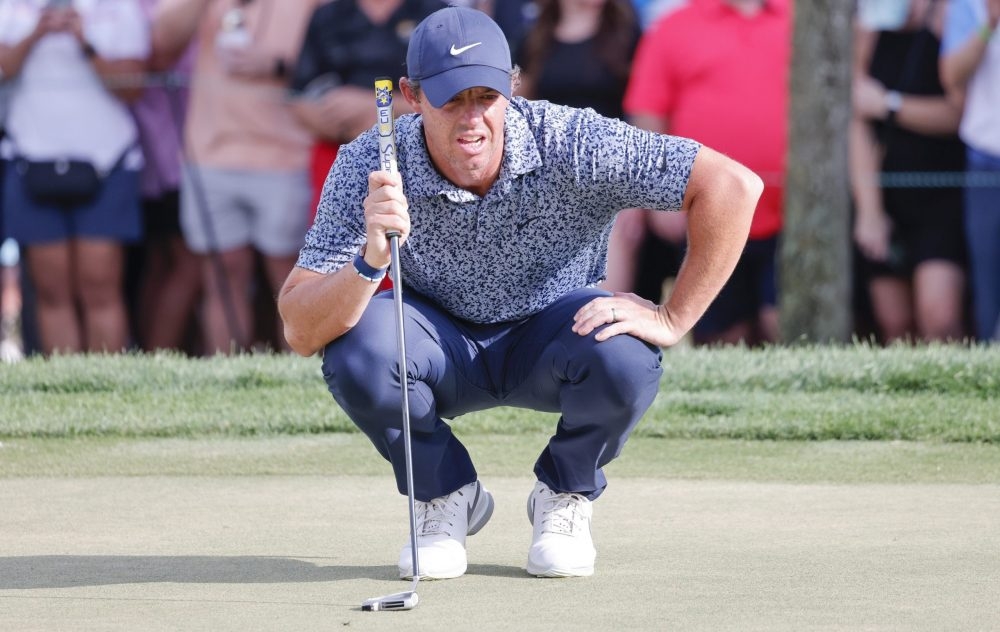 Article content
This article was created by Sports Interaction. Postmedia may earn an affiliate commission through our links on this page.
Article content
Golf is one of the most popular recreational sports worldwide and as a result, professional organizations like the PGA Tour and LIV Golf attract huge numbers of viewership. Fans of the PGA Tour and LIV Golf are not limited to watching from the sidelines, however, as golf betting has become increasingly popular.
Article content
Sports Interaction is covering all the ways fans can get in on the action and bet on golf.
Make sure to check out Sports Interaction's complete list of odds for the PGA Tour and LIV Golf.
Golf's four majors
The most popular tournaments to watch and bet on in golf are known as the four majors: the Masters, the PGA Championship, the U.S. Open and the Open Championship.
The Masters, sometimes called the U.S. Masters outside of the United States, is staged in April as the first major of the year. It originated in 1934 and is held annually at Augusta National Golf Club in Augusta, Georgia. It's arguably the most recognized golf tournament in North America, particularly known for the distinctive green jacket it awards the tournament winner. According to Las Vegas oddsmakers, the Masters takes in approximately 20 times the betting action compared to non-majors like the RBC Heritage or Charles Schwab Challenge.
The PGA Championship, held in May, dates back to 1916, while the U.S. Open, held in June, began in 1895. Both tournaments have been staged at numerous rotating golf clubs over the years.
The oldest and final major of the year is the Open Championship, also known as the Open and the British Open, which occurs in mid-July. Since 1860, it has been held annually by The R&A, or the Royal and Ancient Golf Club of St. Andrews. The location rotates between a select group of coastal links golf courses in the United Kingdom, the most recognizable being the Old Course at St. Andrews.
Golf prop bets
Prop bets are popular in golf because you can bet on almost every aspect of the game. Will there be a hole-in-one? Where will the tournament champion be from? What will be the lowest score of the tournament? 
Hole-in-ones are obviously rare, so it's generally safe to bet against a player getting one. In the example above, a bet on no hole-in-ones occurring in the tournament is going for +125. That means a $100 bet would net you $225, including your original investment.
If you want a higher payout, you need to take a bigger risk. Do you think the increasingly advanced technology in golf equipment will inevitably lead to a new course record? If so, you could earn over $1,000 on a $100 bet.
Golf futures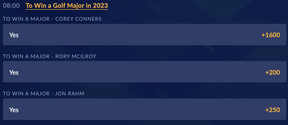 Like other sports, futures bets in golf are popular because of the higher payouts. Rory McIlroy and Jon Rahm are consistently listed in the top 10 on the Official World Golf Rankings, which essentially means they are among the favourites to win any tournament they enter.
 If you bet on McIlroy at +200, you double your money if he wins the tournament. As golf fans know, however, any player can get hot for a weekend and win as a longshot. Taking a stab at someone like Canadian Corey Conners, who has one PGA Tour victory in his career and a top-10 finish at last year's Masters tournament, is a much better potential payout. Betting $100 on Conners at +1600 would earn you $1,600 profit if he won.
Golf betting tips
Rule No. 1 when it comes to golf betting is to do your research. Reading about a course can be very helpful. Does it have specific holes that give certain players trouble? Is one player more comfortable at one course over another? What are the weather conditions generally like?
You also want to study the field. Which golfers are playing in the tournament? Which golfers are not playing? Has a golfer been consistently finishing near the top of the leaderboard, lately? Has a golfer struggled, lately?
In short, if you put in the work, you can greatly improve your chances to win.
This article was written by Sports Interaction. Sports Interaction's content provides information that helps readers navigate the new landscape of sports betting in Canada.  
Please confirm the betting laws and regulations in your jurisdiction as they vary from province to province and country to country. The site is not associated with nor is it endorsed by any professional or collegiate league, association or team. 
Information in the above article is for entertainment purposes only and is not targeted to under 19 audiences. Using this information to contravene any law is prohibited. Visit the Responsible Gaming Council's Safer Play to keep gambling safe and fun.