A Full Review of Secrets Moxché Playa del Carmen All-Inclusive Resort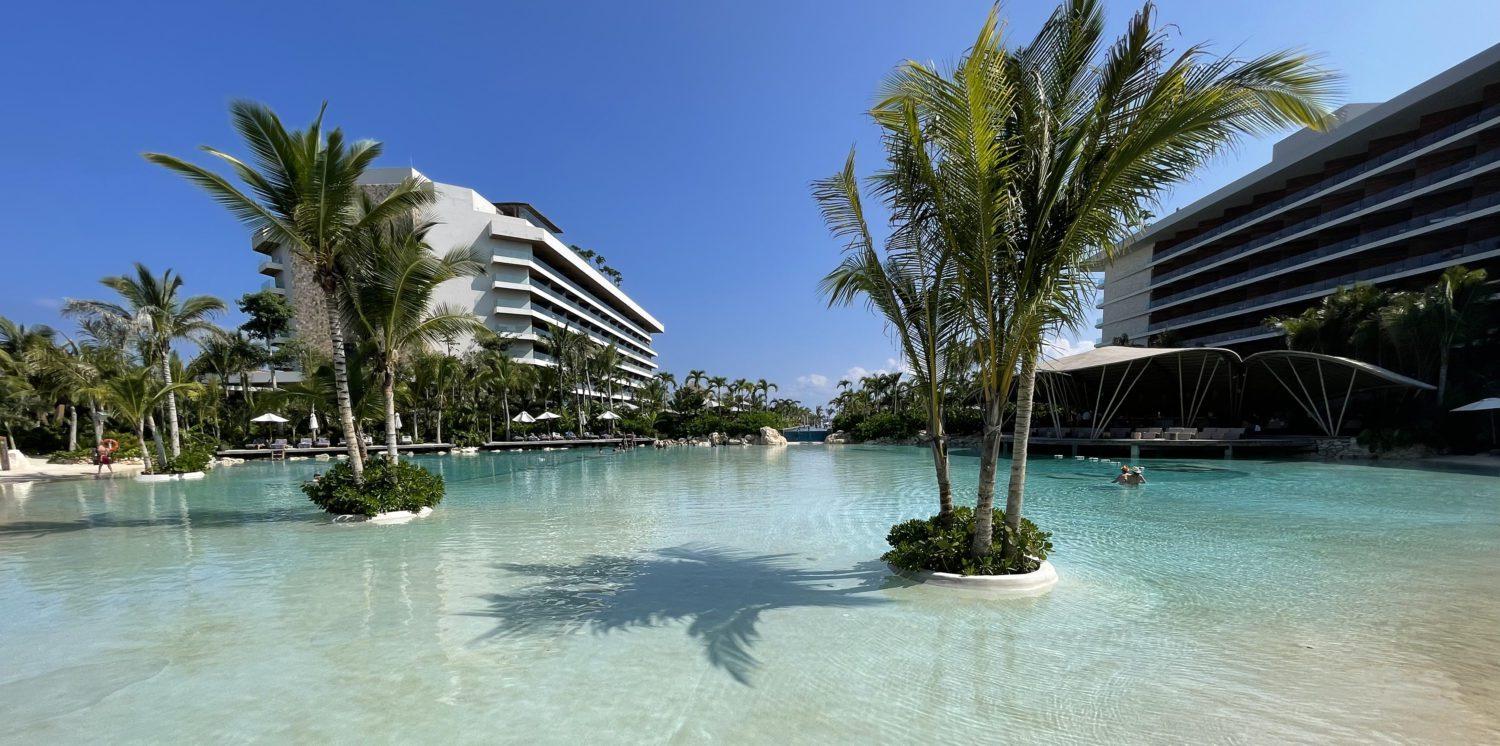 Travelers headed to Mexico's Riviera Maya have an overwhelming number of all-inclusive resorts to choose from, but there's one that deserves a spot at the top of your list: Secrets Moxché, the new adults-only resort near Playa del Carmen.
When Hyatt acquired the Secrets brand of resorts and hotels last year, I immediately began scouting spots for my next getaway. Secrets boasts a good reputation among travelers who seek out an all-inclusive experience, and now that they're bookable with World of Hyatt points these luxury properties are more affordable than ever.
Book soon, though: Hyatt is hiking award rates at more than 200 hotels, including Secrets Moxché Playa del Carmen, on March 28, which means it will soon cost you more points. 
Secrets Moxché Playa del Carmen opened in April 2022. While the food and drinks, service, and amenities were all the same level of excellence I've come to expect from Secrets resorts, Secrets Moxché stands alone with its upscale, nature-inspired design. In the Mayan language, Moxché loosely translates to "tree root" and this concept is incorporated throughout the resort from the layout of the outdoor areas to the handcrafted wood accents in the lobby. Trust me when I say, Secrets Moxché was one of the most beautiful all-inclusive resorts I've been to.
Read on for a full review of my stay at the Secrets Moxché.
Booking the Secrets Moxché
Secrets Moxché Playa del Carmen is part of Hyatt's portfolio of all-inclusive resorts, and that's a good thing because it means you can book with World of Hyatt points. 
We recently listed Secrets Moxché as one of the 10 Hyatt all-inclusive resorts where your points will go the furthest. That's because while cash rates average $900 a night at this property, it can currently be booked for just 25,000 Hyatt points per night – an incredible value. 
That's changing soon, though. Come March 28, Secrets Moxché will jump from a Category C Hyatt all-inclusive to Category E, meaning a standard award night will go from 25,000 points per night to 40,000 points a night.
Thanks to Hyatt's new peak and off-peaking award pricing, that amount could be more (or less) depending on the timing of your stay. A night could cost as few as 35,000 points or as many as 45,000.
Here's a look at Hyatt's all-inclusive award chart: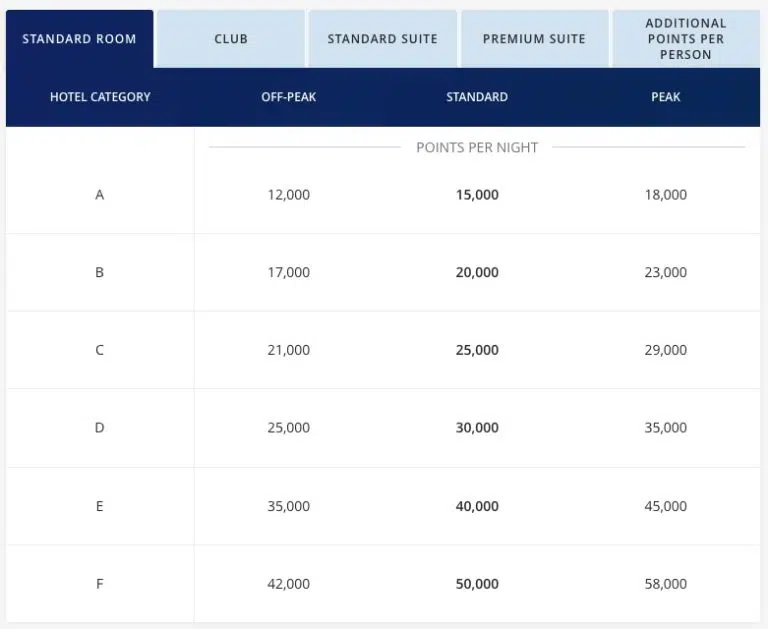 But. that rate includes nearly everything from your lodging to your drinks, food, and most of the amenities the resort has to offer.
One thing to keep in mind when trying to book with World of Hyatt points: Not all dates will be available – it depends on award availability. And you won't be able to pick different room types – the rooms bookable with Hyatt points are the standard or tropical views with king or double beds.
Attaining World of Hyatt points is easy, too. Hyatt is one of the best Chase transfer partners. A stash of 60,000 Chase points gets you 60,000 Hyatt points – that's enough for at least one free night at Secrets Moxché.
At Thrifty Traveler, we don't accept freebies. We use our own points, miles, or cash to pay for every single flight or hotel you see reviewed here – including this one!
Secrets Preferred Club and Impressions
There are more luxurious options available at the Secrets Moxché property, too. The Preferred Club has bigger suites and access to its own rooftop pool and restaurant.
Secrets Impressions is a big step above the Preferred Club. Think of it as a high-end hotel within a hotel: It's located within the broader Secrets Moxché resort, sharing some facilities but with its own space and amenities, too. It has less than 200 rooms, each with a bigger footprint than your standard resort complete with a huge terrace with an outdoor hot tub on each. There are private pools and beaches, upgraded amenities, amazing restaurants, and top-shelf liquor. Early reviews suggest it lives up to the hype.
Secrets Impressions can currently still be booked starting at just 21,000 Hyatt points per night which is a steal compared to the cash prices (typically over $1000 a night). But the property soon shift to Category F, which means it will cost 50,000 points per night for a room starting on March 28.
Secrets Moxché Location
Secrets Moxché is located just five minutes north of downtown Playa del Carmen and a little over 30 miles south of the Cancún International Airport (CUN). From the Cancún airport, it'll take you about 40 minutes to reach this hotel as it's just beyond Riviera Maya.
Secrets Moxché Airport Transportation
Like the other Secrets properties in the Cancún area, Secrets Moxché is a relatively quick ride from the airport. When it comes to booking your transportation to get you from the airport to the hotel, you have a few options from scheduling a private transfer to even taking a taxi. you'll have a few options via private transfer or even taking a taxi. Both are fairly easy and fairly cheap.
On the advice of Thrifty Traveler co-founder Nick, I used USA Transfers to book a $120 round-trip transfer to the resort for me and my wife. That rate is pretty comparable to standard taxis, but scheduling our transportation in advance made for a much less hectic experience once we arrived in Cancún.
There are other transfer services but you can't go wrong with USA Transfers. We aren't paid to promote them and there's nothing in it for us: It's just a service that we trust.
Secrets Moxché Lobby & Check-In
From the moment we arrived at Secrets Moxché, I was impressed. The front entrance and lobby are remarkable, with an open-air design that had all the right welcoming touches.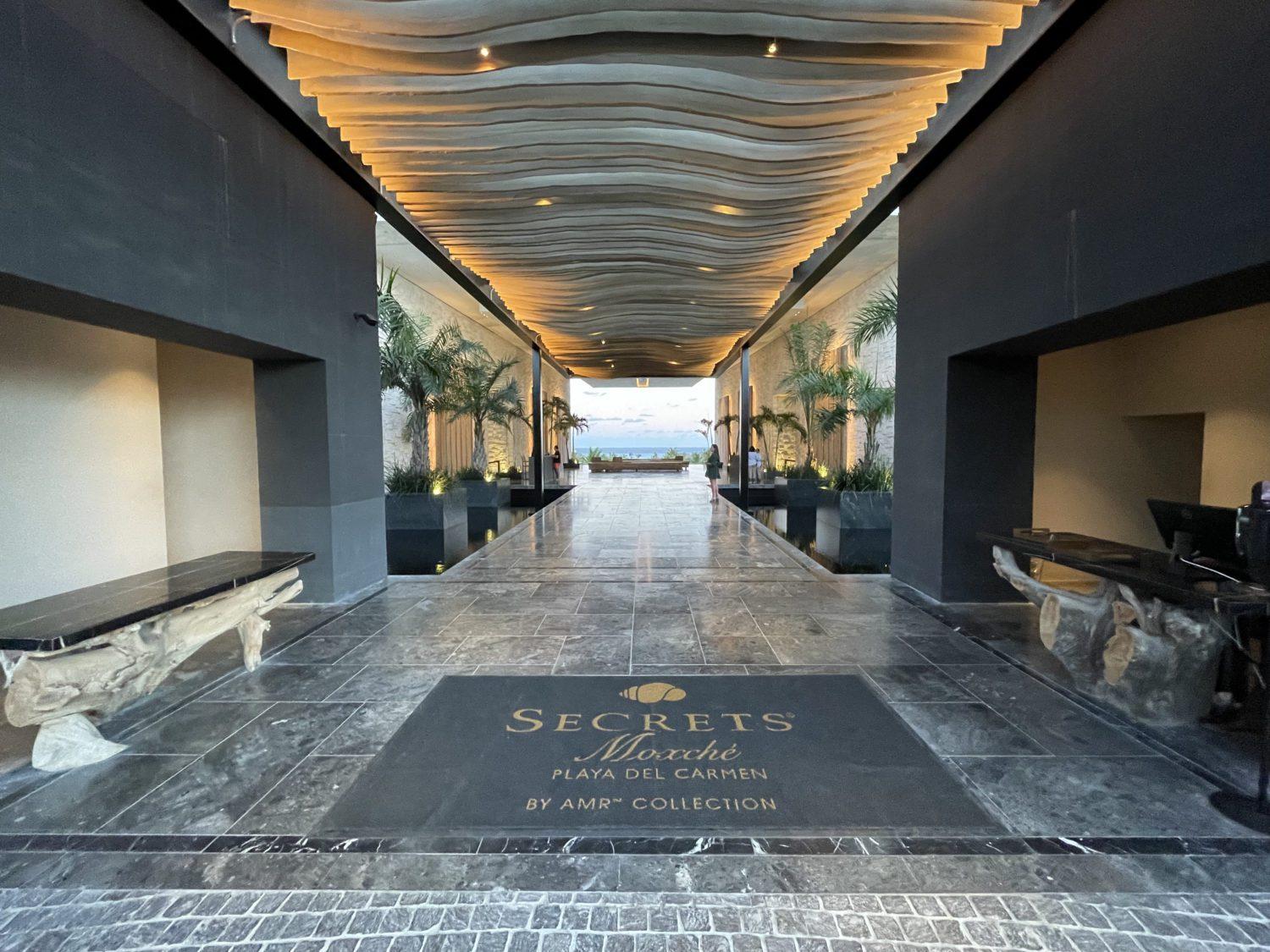 Staff ushered us to the first available desk and offered us complimentary glasses of champagne while we completed our check-in. The staff member was friendly and welcoming as they got to know us. We chatted about our previous stays at Secrets and how excited we were to explore this new property. Since we booked our stay with Hyatt points, we were repeatedly thanked for being World of Hyatt members.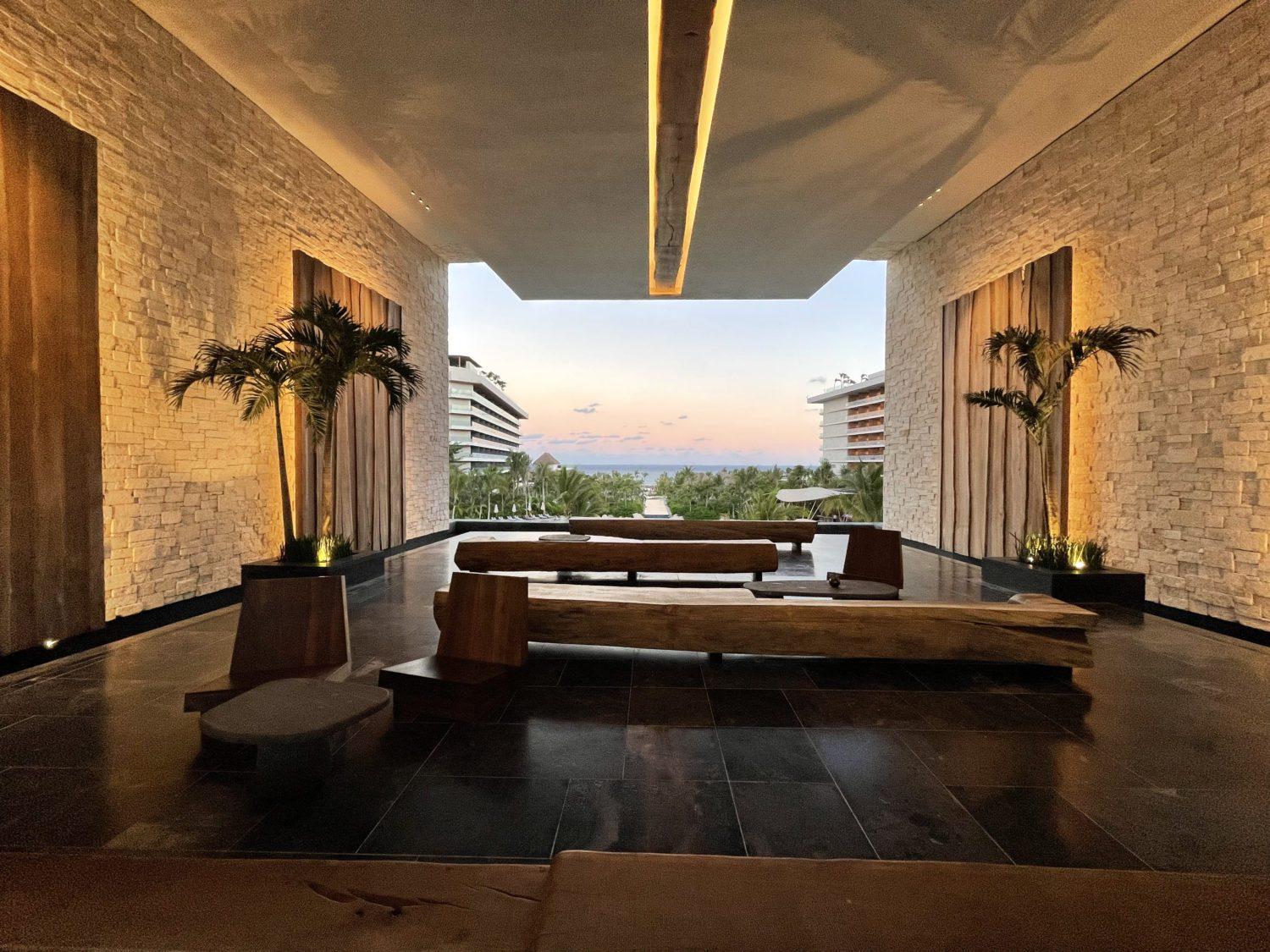 Our room was ready upon arrival, which rarely happens at other all-inclusive hotels.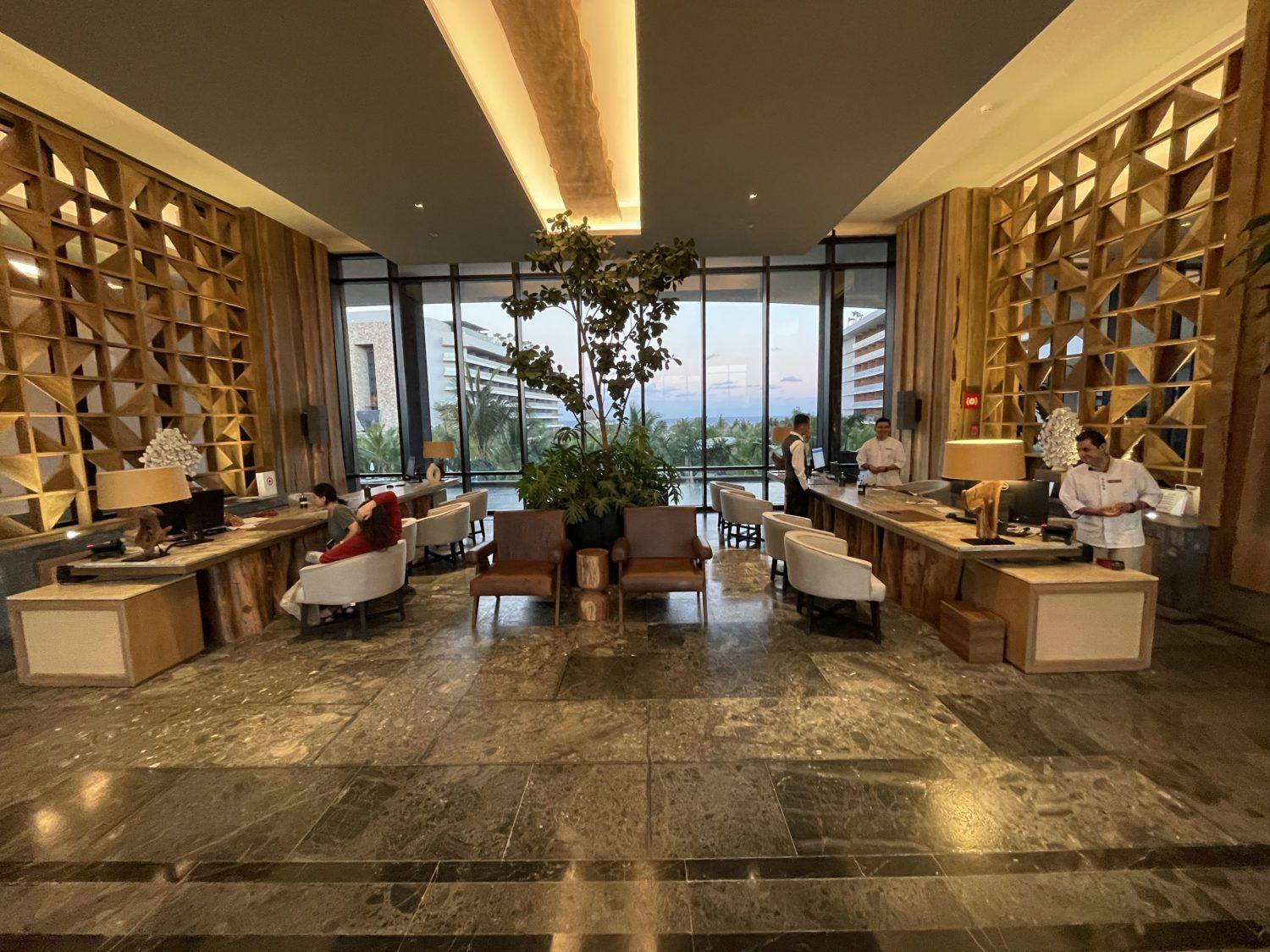 However, after checking in, we were brought to a different part of the lobby where they tried to sell us on signing up for a Hyatt timeshare presentation. This took some of the wind out of our sails and killed the hype of our arrival. It was the first time we've ever experienced this sales pitch during a Secrets stay.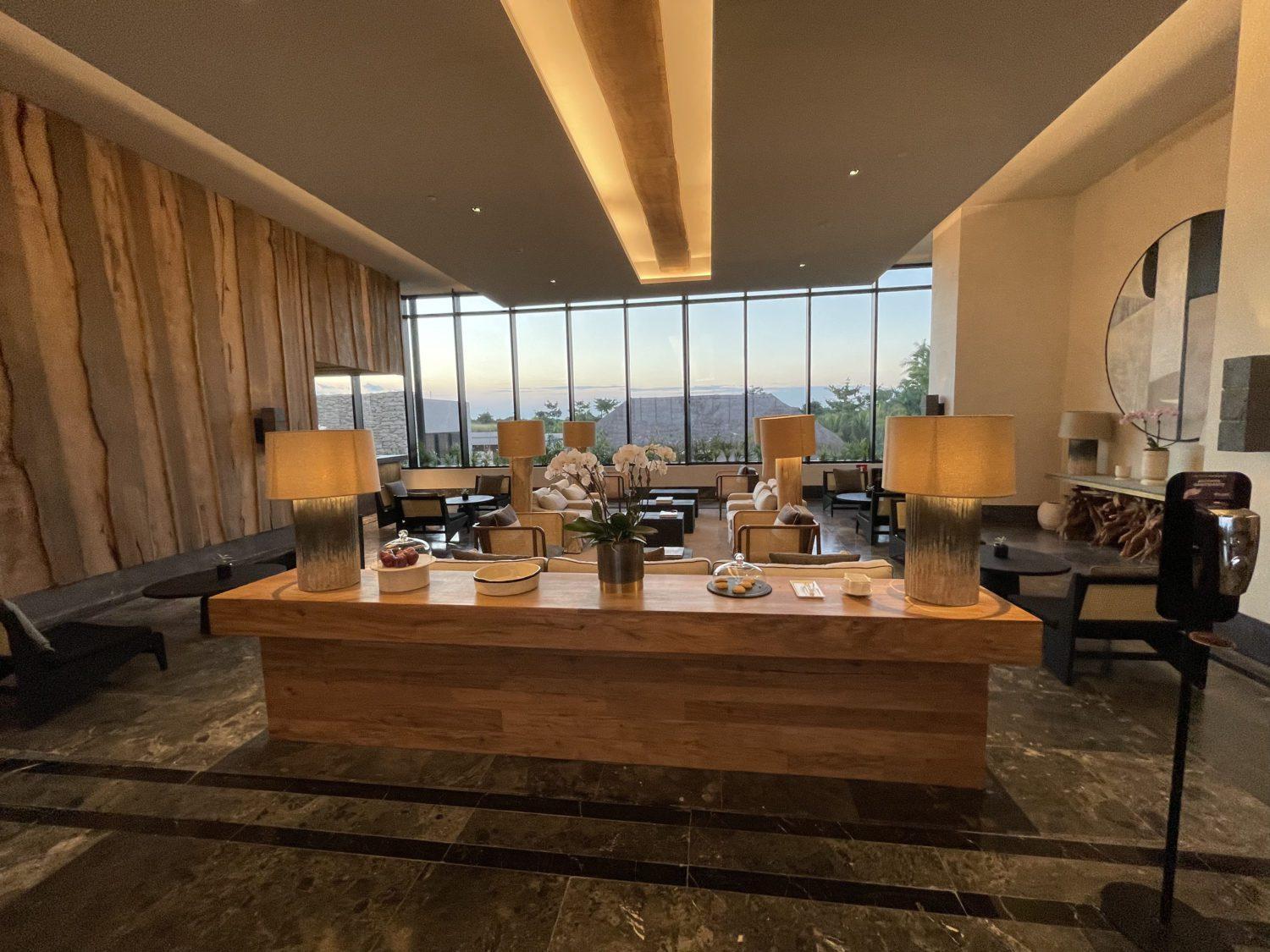 But overall, the check-in process was quick and efficient. A cold glass of champagne with several warm greetings was a great start to our trip.
Secrets Moxché Rooms
Secrets Moxché has a total of 485 rooms with several different options of setups to choose from. Since we were staying for six nights and using Hyatt points, we decided to go with the most basic of all the selections and booked one of the Tropical View rooms with a king bed. There's an Ocean View option as well, but since we don't spend much time in the room when we're traveling we felt the view was good enough for us.
Our jaws dropped when we entered our room. It is the nicest hotel room we've ever stayed in. The first area that we took a look at was the bathroom. This was unbelievably large for a bathroom and had all the bells and whistles.
The best part of the bathroom was the massive bathtub next to a full-sized mirror with accent lighting. In front of the bathtub was a rain shower entryway.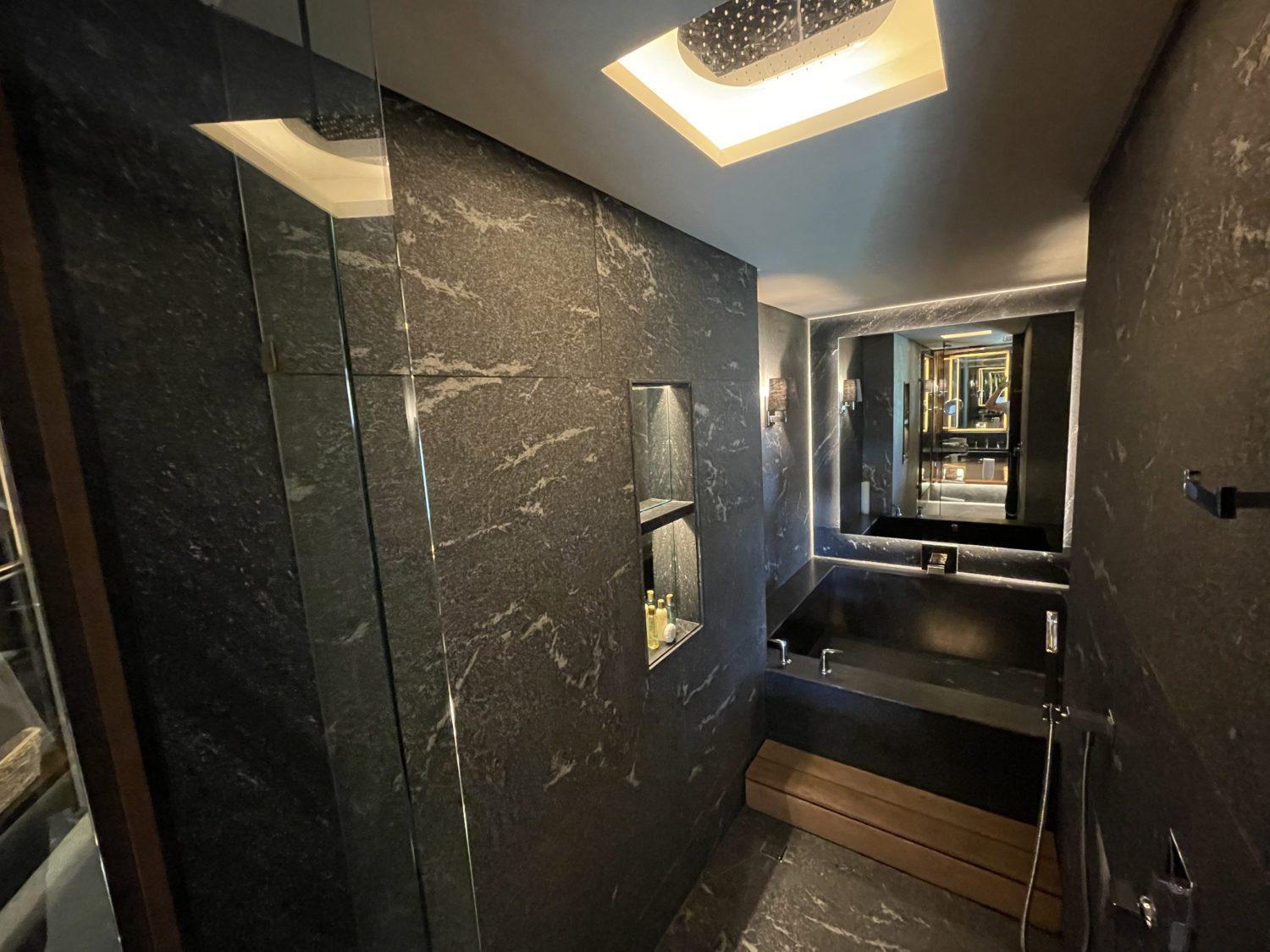 Beyond that, the bathroom had a beautiful layout with a separate room for the toilet and another room with double sinks. The amount of soapstone used throughout the bathroom was incredible. There was also a sliding wood-panel door to separate the bathroom from the bedroom. The bathroom gave us a lot of ideas for our own home.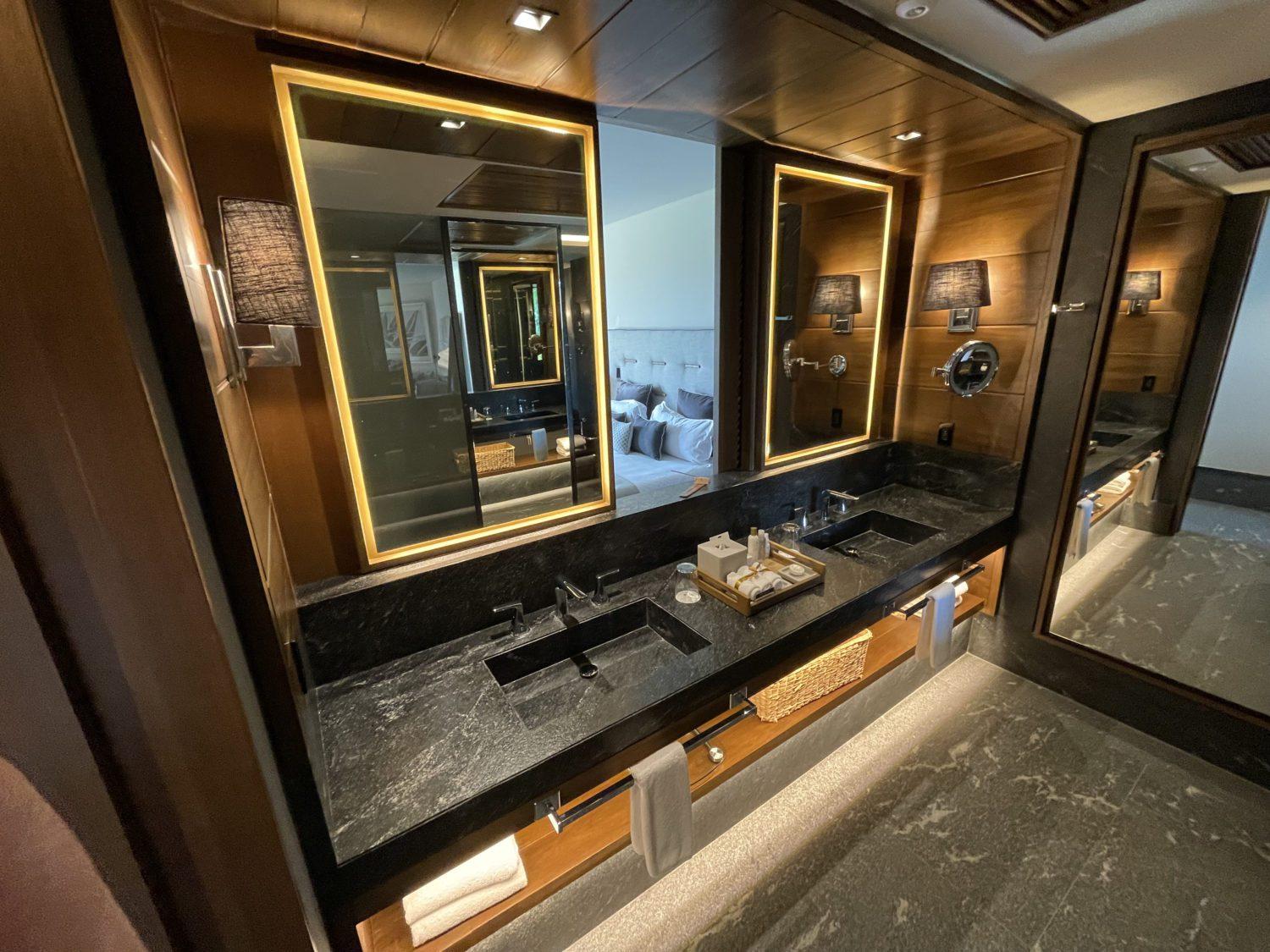 The main living part of the room was equally as impressive, generously sized at 668 square feet. An extremely comfortable king bed in the center of the room, tons of accent lights, and gorgeous design touches throughout really tied the room together.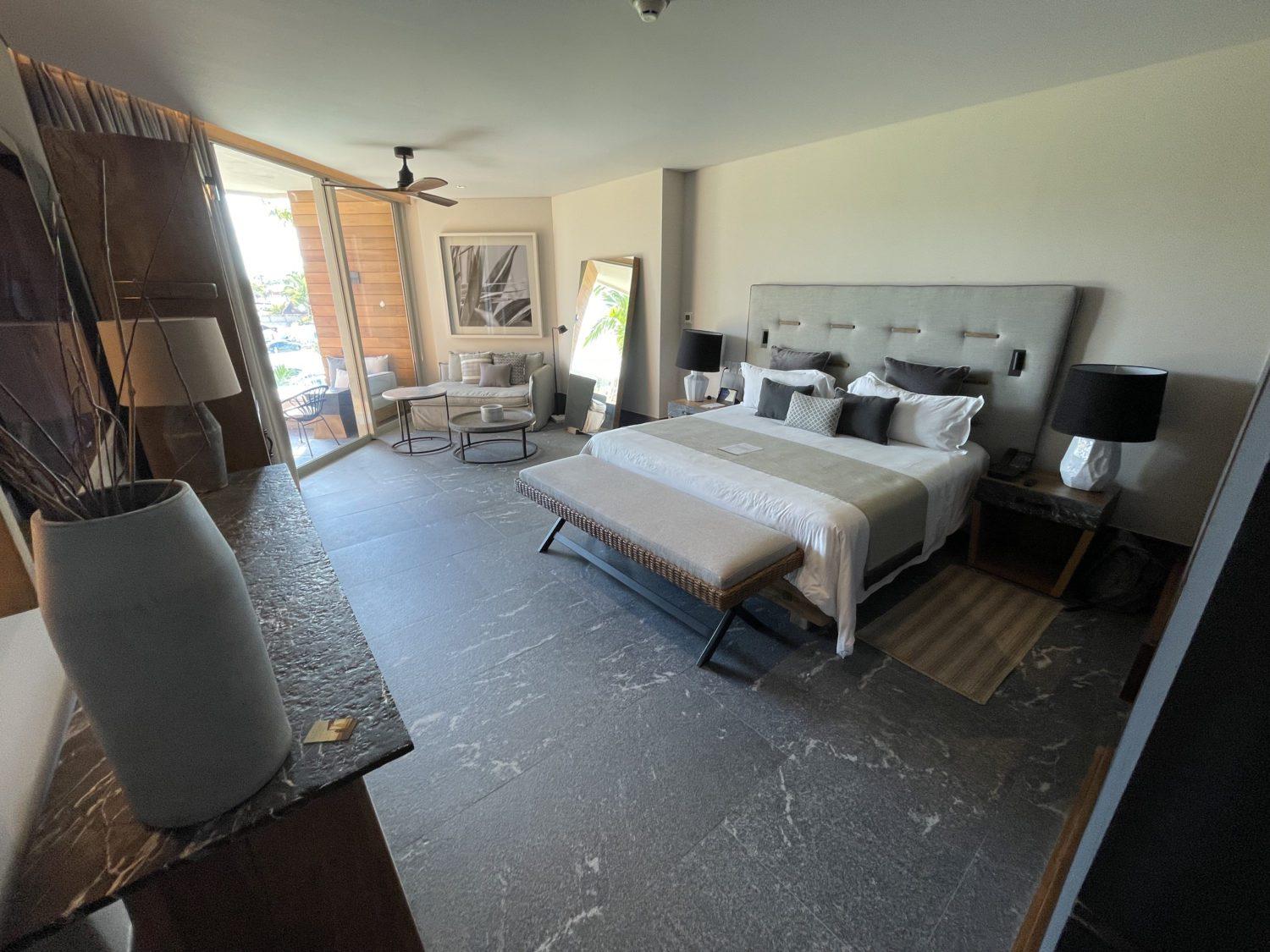 Behind a set of electrically powered blinds was a large sliding glass door that led to the patio. It was perfectly roomy with a nice daybed for lounging outside. We spent every morning hanging out on our patio having a coffee to start the day.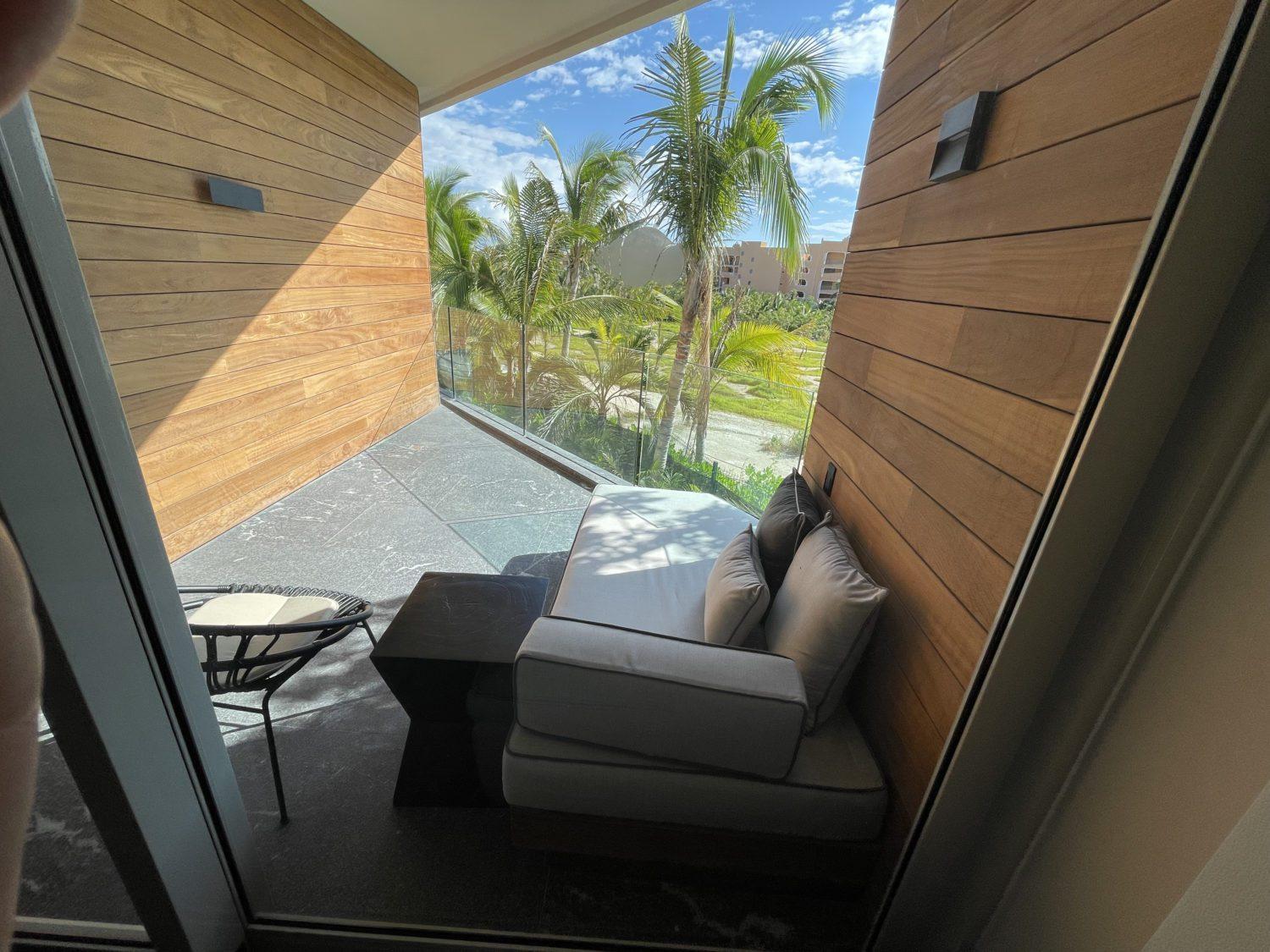 This room had all the top-level amenities you'd expect in an all-inclusive. The mini bar was stocked full of beverages, from soft drinks to beer. The feature we love at Secrets Hotels is the tablet available next to the bed which gives you all the details you need for your trip. It can act as a digital concierge and also allows guests to order room service. This tablet will give you all the information from daily activities, all restaurants menus, and even the TV guide. It's a helpful feature in the room for sure.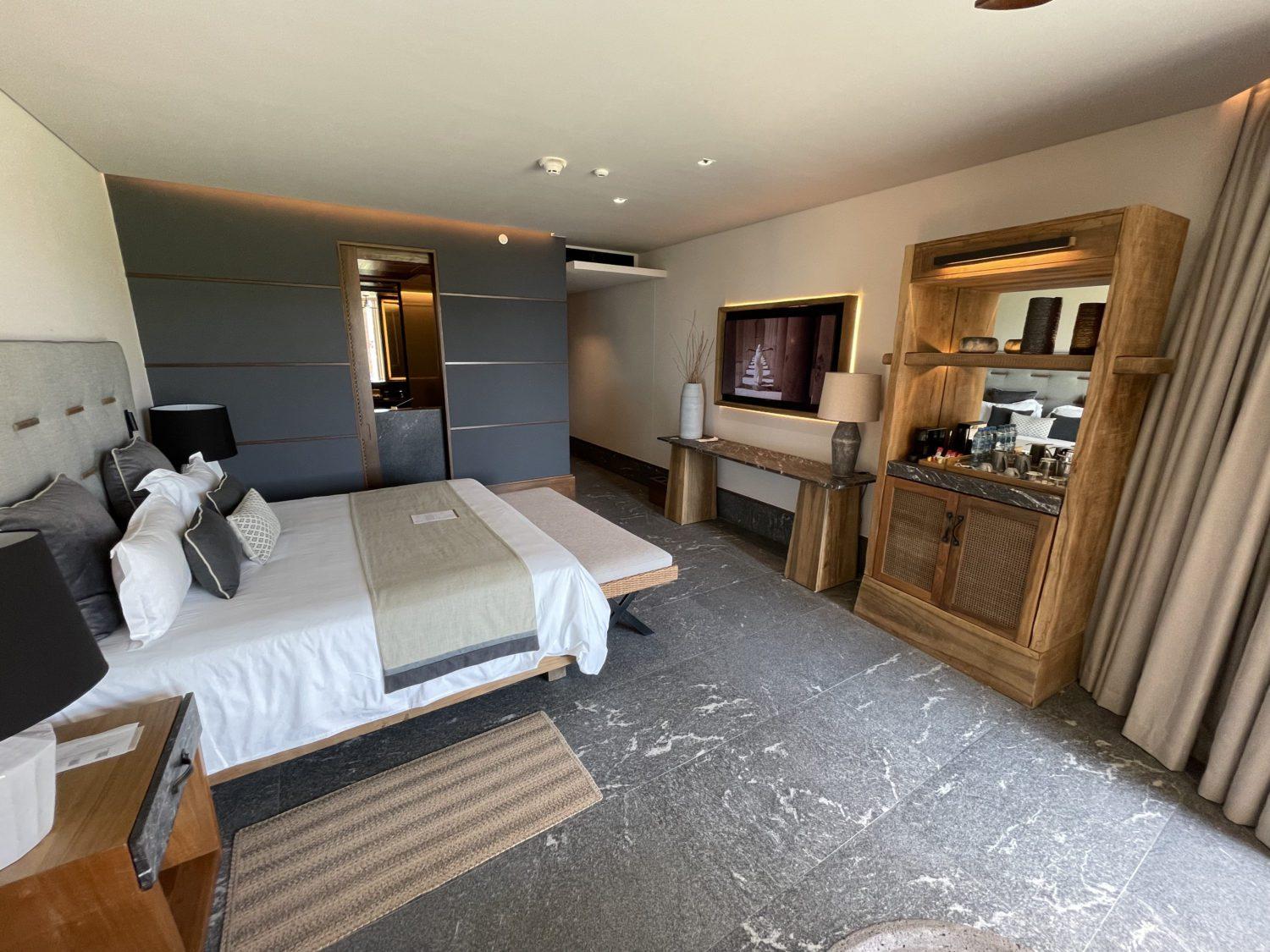 Secrets Moxché Facilities & Amenities
From the impressive spa and plethora of pools to the well-equipped fitness center and the massive theatre, Secrets Moxché is a huge property with no shortage of activities to keep you busy or places to just lounge around. You won't be bored at this resort.
Secrets Moxché Pools
Let's start with the biggest highlight of Secrets Moxché: The pools. The first pool you'll see as you walk through the lobby is the lagoon. This gorgeous area has a sandy "beach," but is also surrounded by decking with lounge chairs, an elevated restaurant called Bamboo, and a beach bar called The Cove.
We spent quite a bit of time at this pool as it was much quieter and more relaxing than some of the others. It's no more than five feet deep in most areas – perfect for cooling down with a drink in hand.
Leaving the lagoon and heading towards the other pools, you'll follow a series of walkways shaded with bamboo – another example of the thoughtful design behind Secrets Moxché.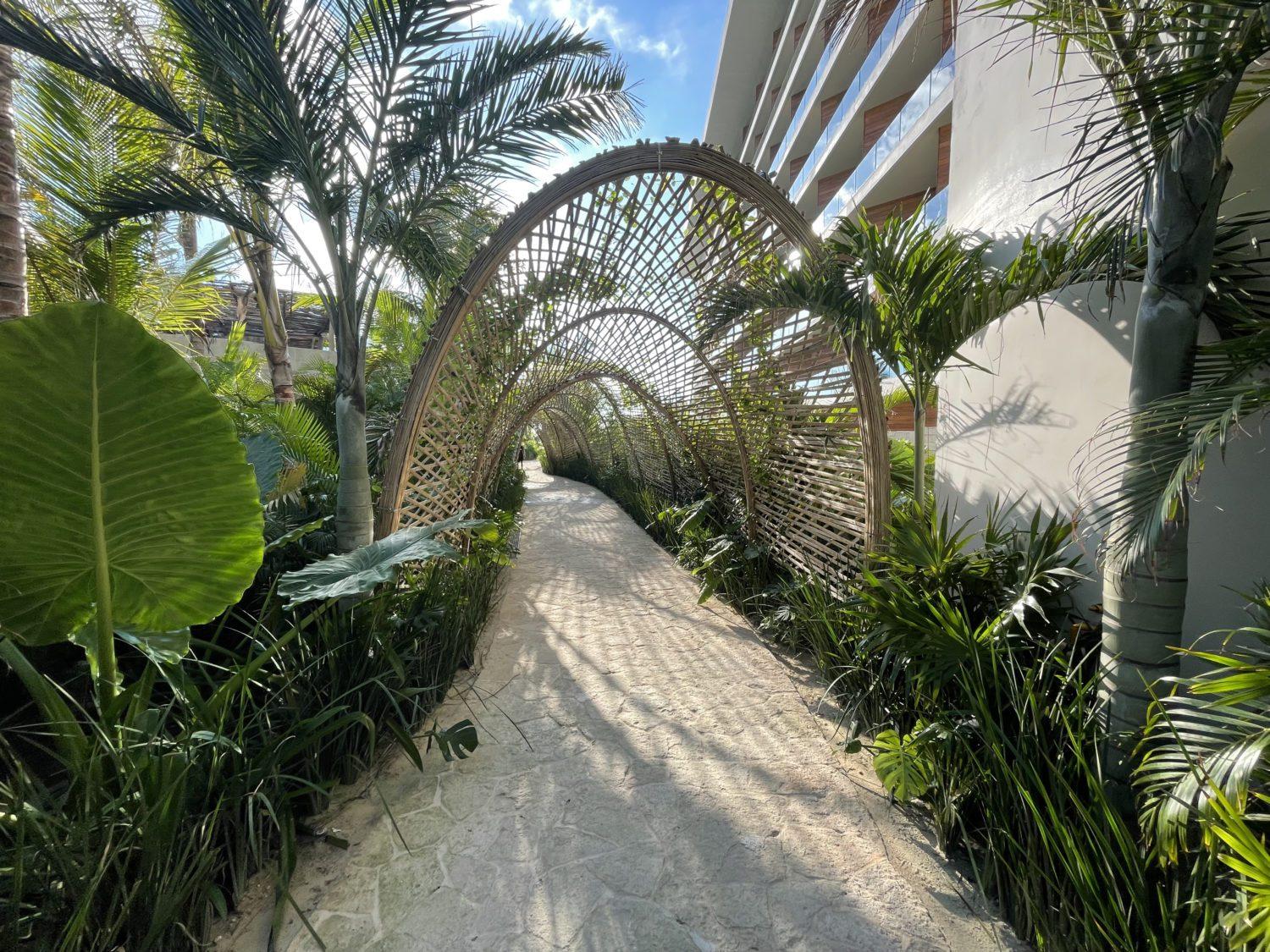 Keep walking and you'll discover just how many pools there are at this property.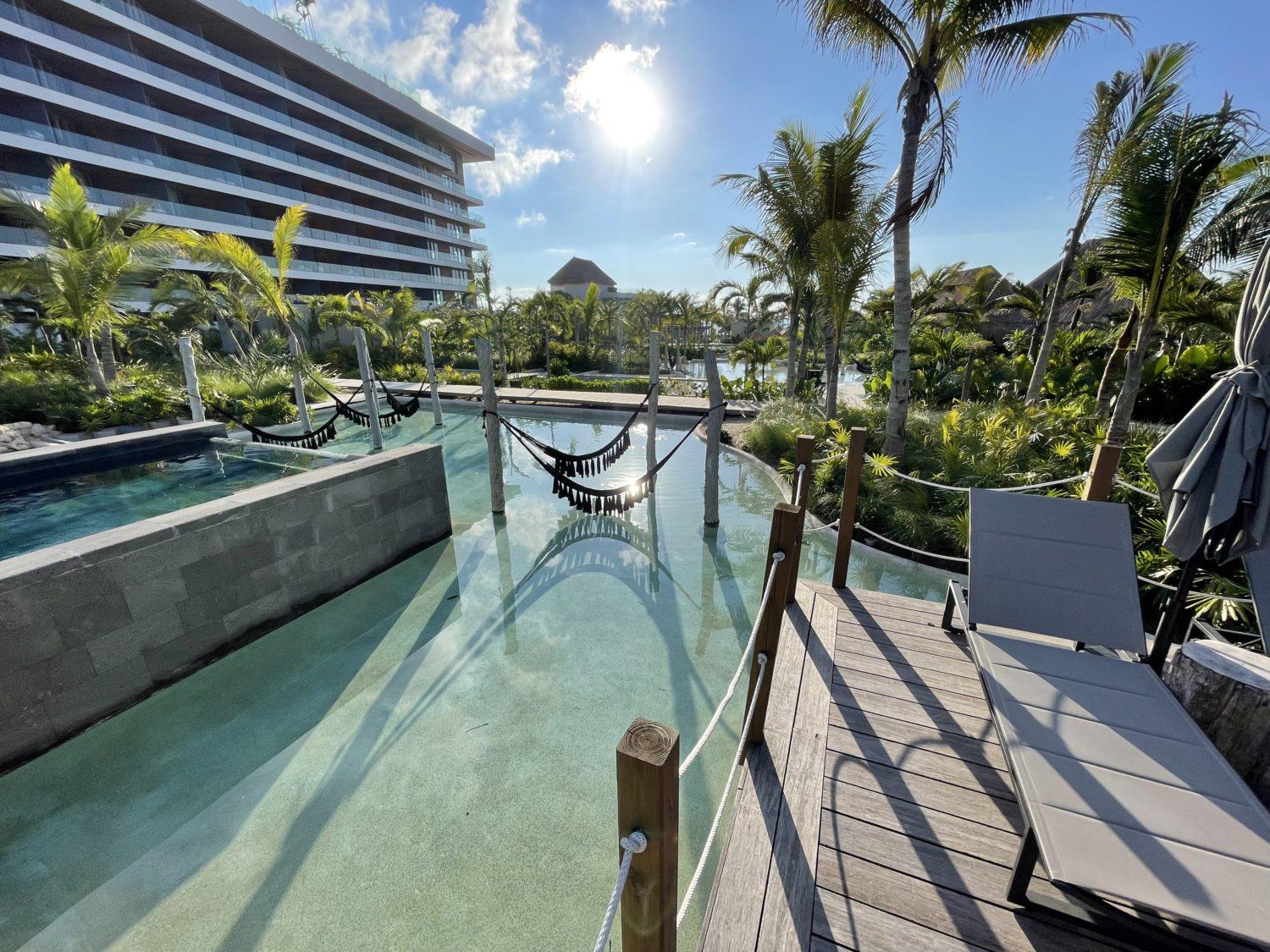 The middle section of pools also had several hot tubs, which were fun to hop in later in the day.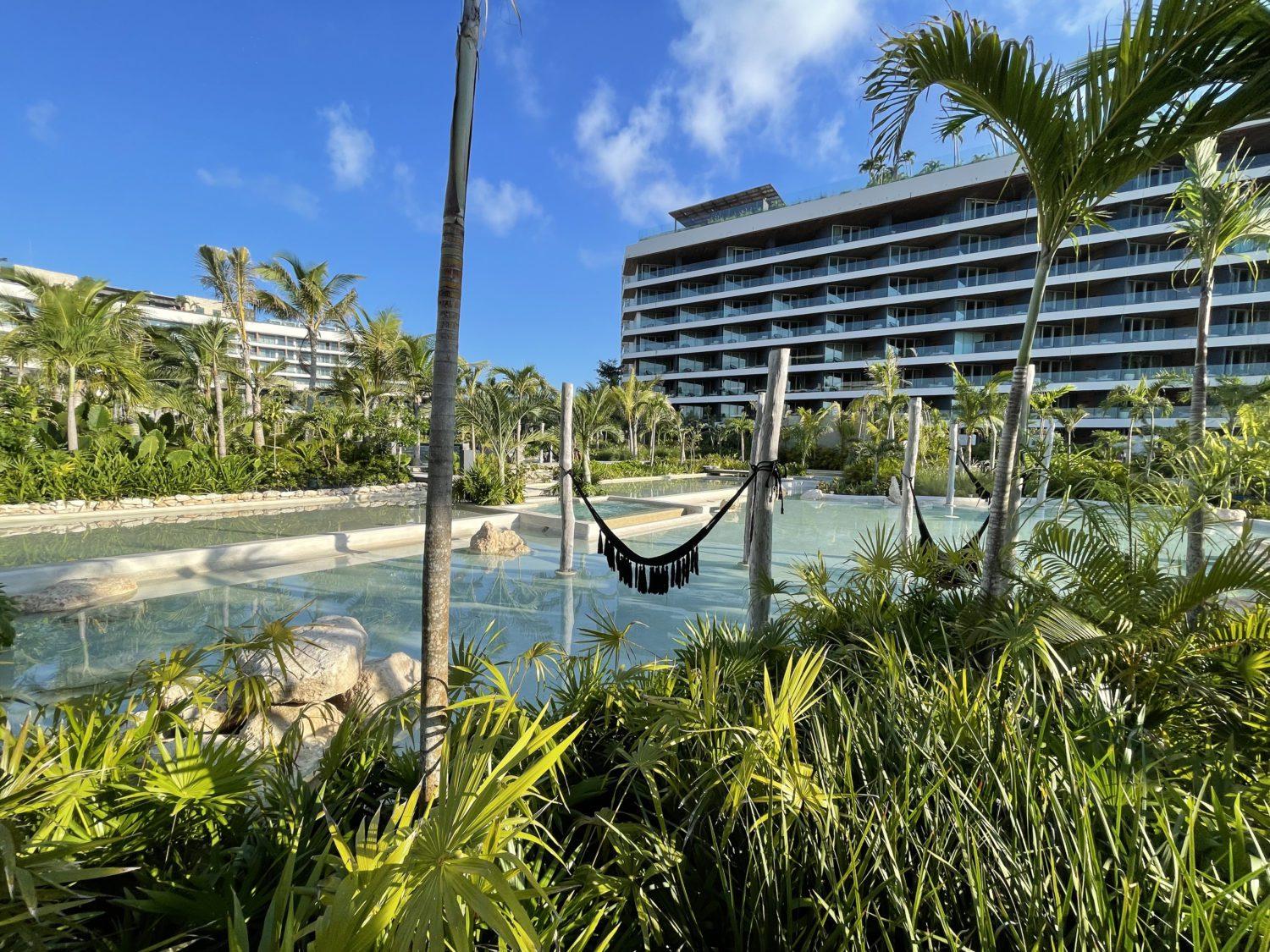 Just before the main pool, you'll come across several man-made cenotes secluded between rock-walled entryways.
There are only a few lounge chairs at these cenotes, but this is a solid spot to get a break from the more crowded areas of the property. We didn't spend any time at either of these cenotes, but they appeared to be popular, especially later in the day.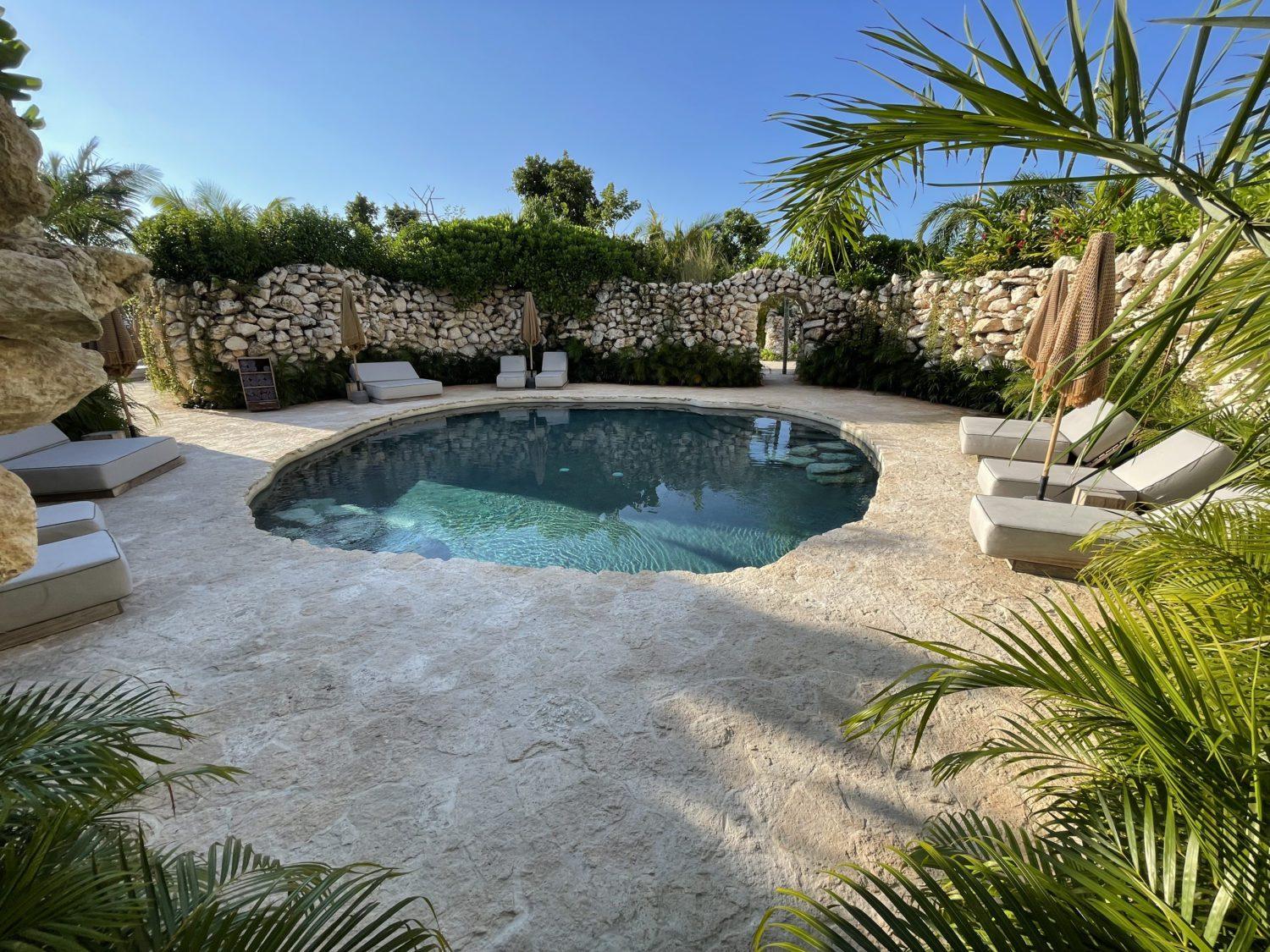 The main pool is located right next to the beach. At the north end is the Sugar Reef swim-up bar, which was fairly lively during peak pool hours.
The activities team also hosted events here, from kayak races to water volleyball and water polo. One of the best parts about this pool was the musicians that played every day in the afternoon. There were some pretty talented acts that really were a nice addition to this area. 
We spent several days hanging out at this pool during our stay. One piece of advice: Stake out your spot early in the morning as lounge chairs filled up quickly at this location.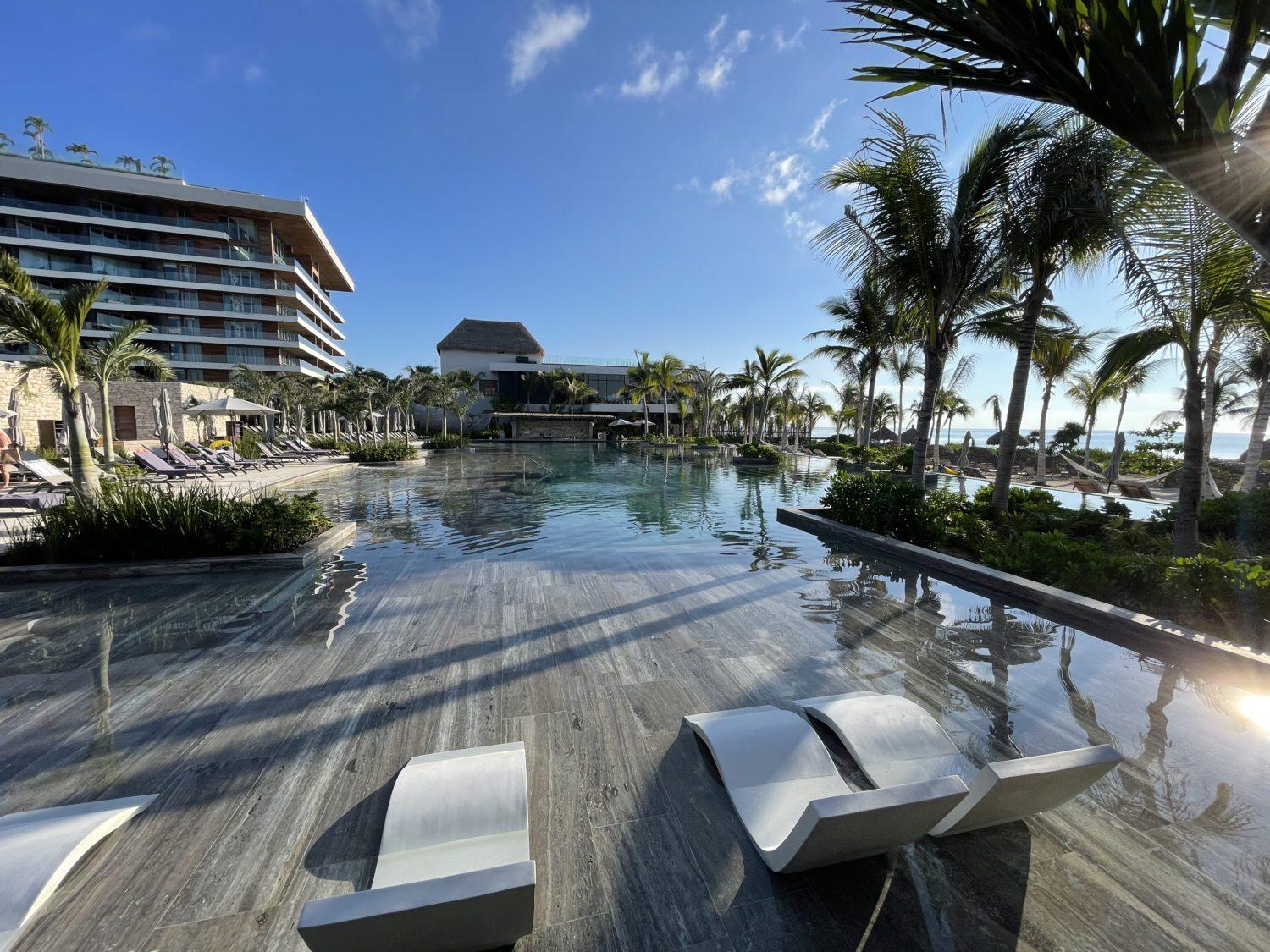 Moxché Spa
The spa was one of the highlights of our trip. The massive Secrets Moxché spa is located on the ground floor, tucked into the corner.  Secrets Moxché has put a ton of effort into making its spa as elegant, clean, and relaxing as possible.
I can't recommend the spa at Secrets Moxché enough. It's worth every penny. It cost around $200 U.S. dollars each for a three-hour session which included, hydrotherapy, a steam room, a sauna, a facial, mud treatment, and a one-hour full body massage. There are a variety of other services offered as well.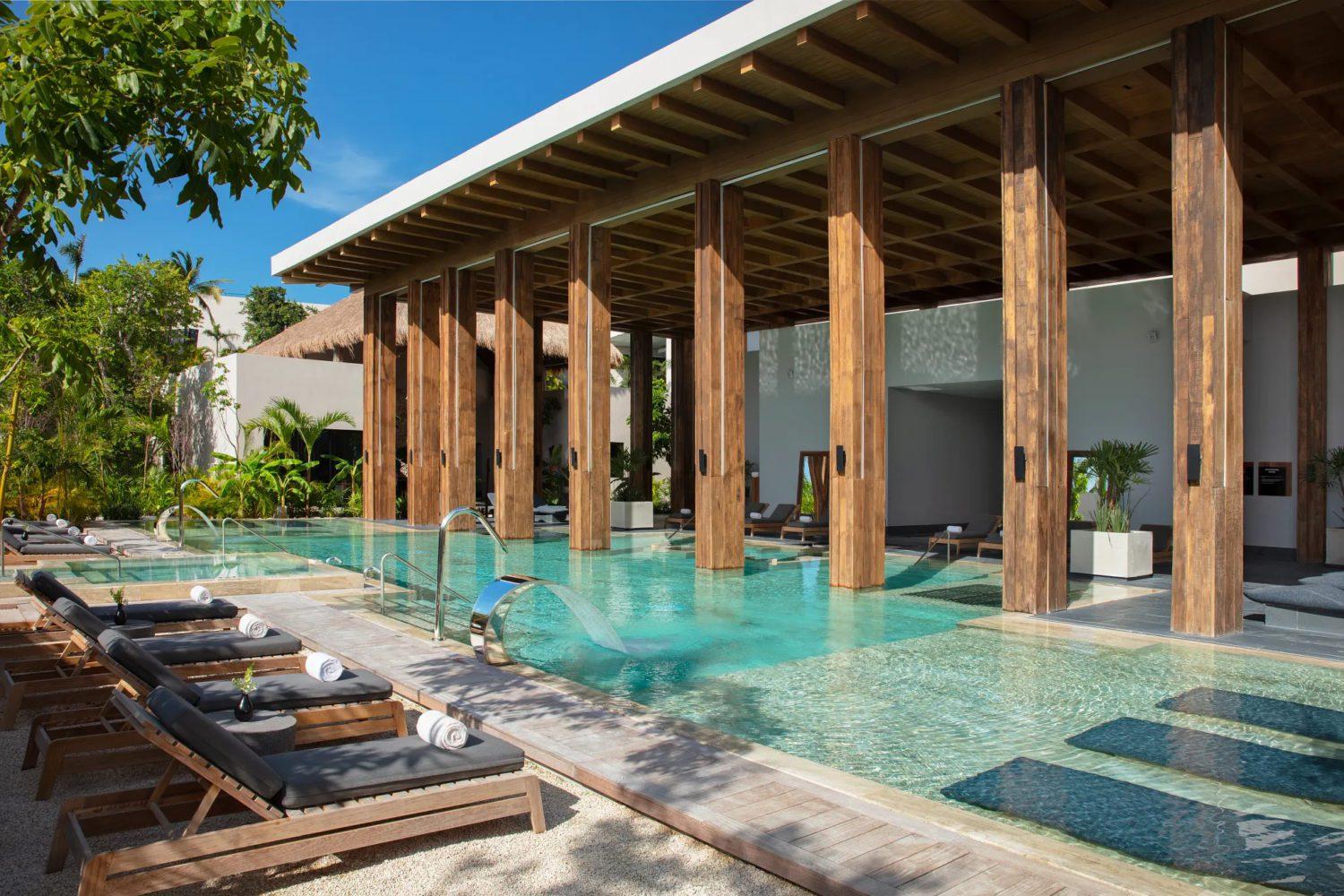 If you're interested in booking a spa service, I'd recommend making reservations at least a day or two ahead as it can get very busy.
Secrets Moxché Fitness Center
We may be out of the norm, but my wife and I always pack our gym clothes and try to hit the fitness center at least a couple of times on our vacations. This trip was no different and we spent a few mornings working out at the Secrets Moxché fitness center.
Similar to other Secrets properties, the fitness center at Secrets Moxché was small but clean and efficient. It's easy to find on the second floor and is always fully staffed. Guests are required to sign in at the front desk.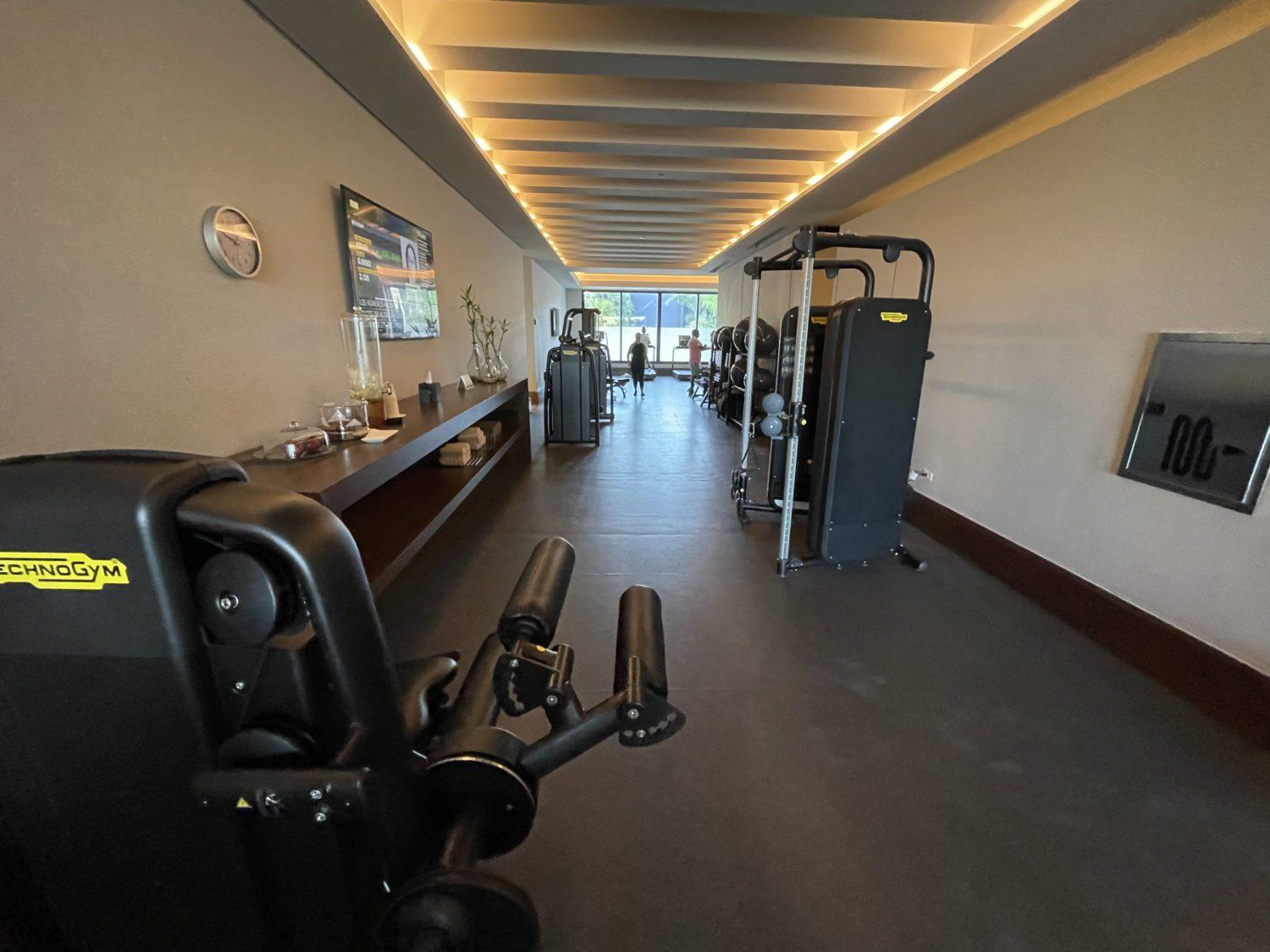 The fitness center was fully equipped with cardio machines, free weights, and more and despite its size, there was plenty of space. There are also two studio rooms that host daily workout classes.
Secrets Moxché Beach
Now for the beach. The beach at Secrets Moxché is not the biggest or best we've been to, but it is nice. Secrets Moxché is situated fairly close to the neighboring resorts which doesn't leave much room for beachfront space.
The sand is raked daily and well-maintained. The water itself had a few rough spots that made it difficult to enter and there wasn't much of a swim area. But if you're just looking to experience some fun in the sand, you'll find that at this beach.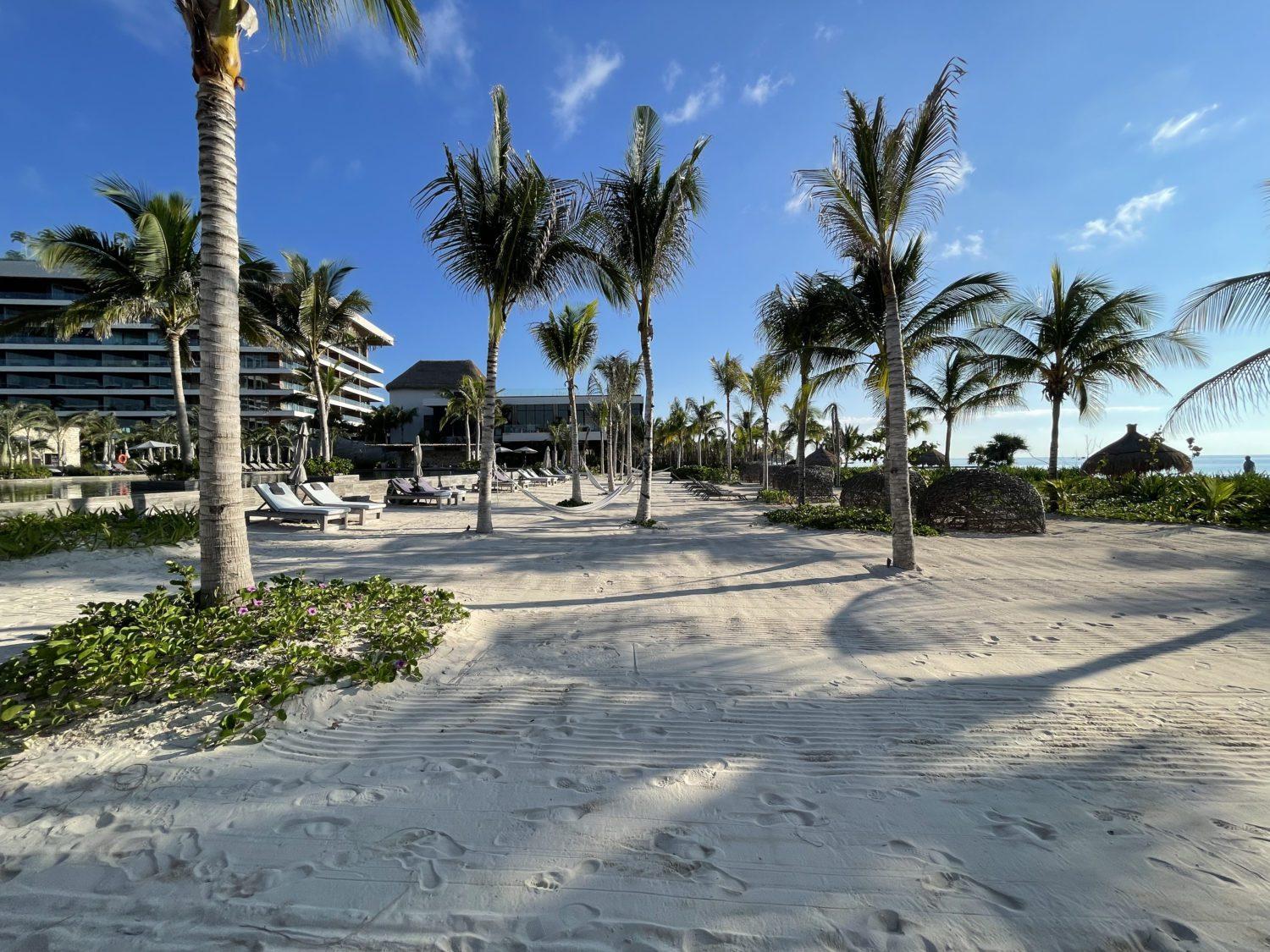 The spots we liked best at the beach were the small tiki huts. They're just big enough to fit two lawn chairs and a small table underneath. The tiki huts have the look and feel of an upside-down bird's nest, but they let in enough of a breeze while providing a decent amount of shade. We spent a couple of days using these as a home base.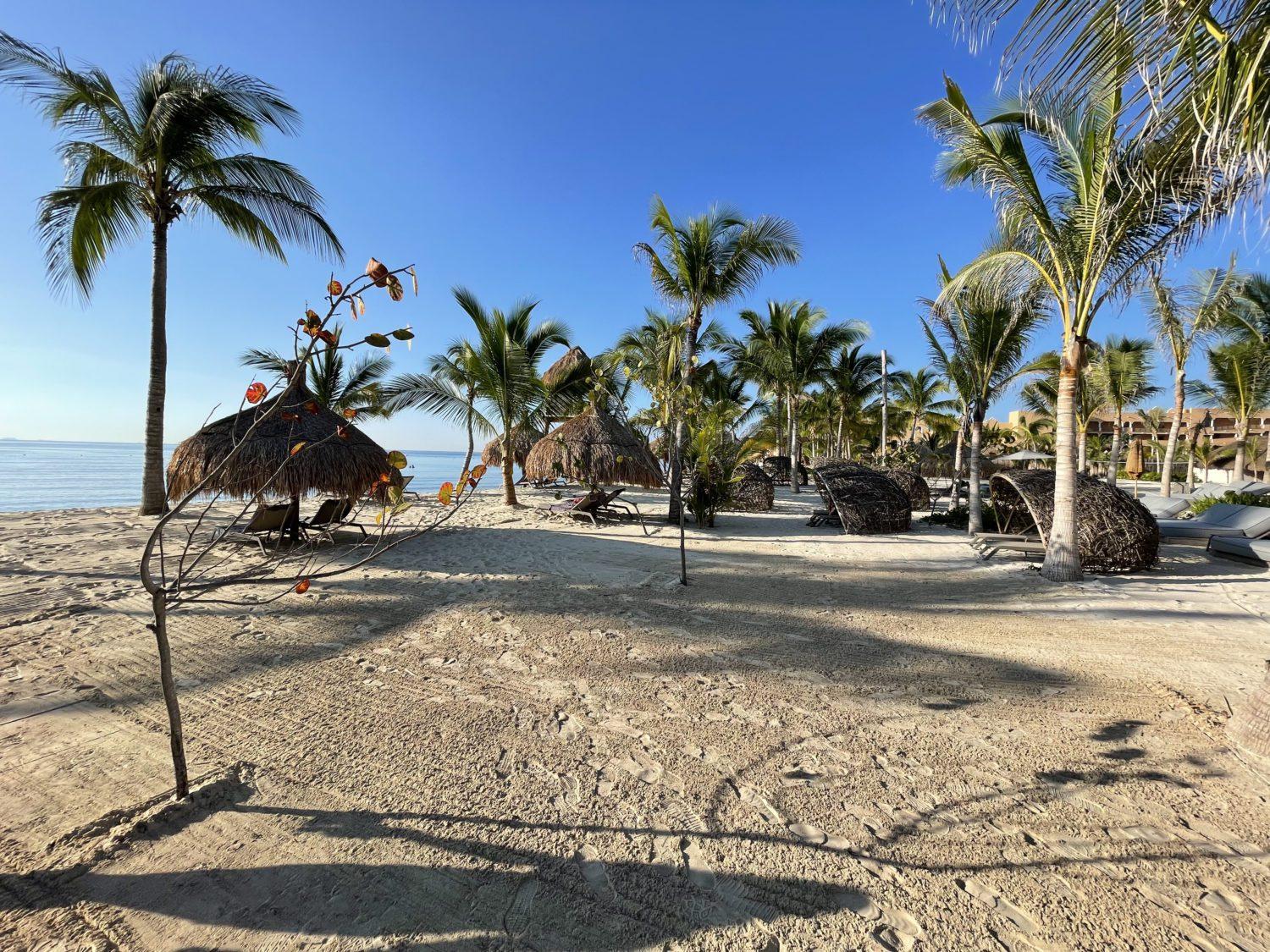 While it's not one of the top beaches in Mexico, the Secrets Moxché beach is a nice spot to hang out, especially if you're looking to relax near the ocean. The service is pretty phenomenal as well. Most of the time, we got our drinks quicker from servers on the beach than we did at the bars on the property.
Secrets Moxché Restaurants
I've been fortunate to have stayed at several all-inclusive resorts over the years and I can confidently say the culinary options at the Secrets properties in general, but especially at Secrets Moxché, are the best I've had at an all-inclusive. The servers, chefs, and other staff members clearly put maximum effort into preparing and delivering the best food possible. 
Secrets Moxché has a total of ten restaurants on the property, seven bars, and a 24-hour coffee shop, meaning there's somewhere to eat and drink at all hours of the day. Here's a look at the restaurants in detail.
Market Café
The Market Café is the main buffet at Secrets Moxché known for its seemingly endless options of international buffet food. It's open for breakfast, lunch, and dinner during the following times:
Breakfast: 7 a.m. – 11 a.m.
Lunch: 12:30 p.m. – 5 p.m.
Dinner: 6 p.m. – 11 p.m.
My wife and I went here a couple of times for breakfast and enjoyed our meals. We ended up getting a pretty standard spread and were satisfied with all options.
The service was also prompt and friendly as they refilled out coffees and juices, and cleared our plates before each visit to the buffet.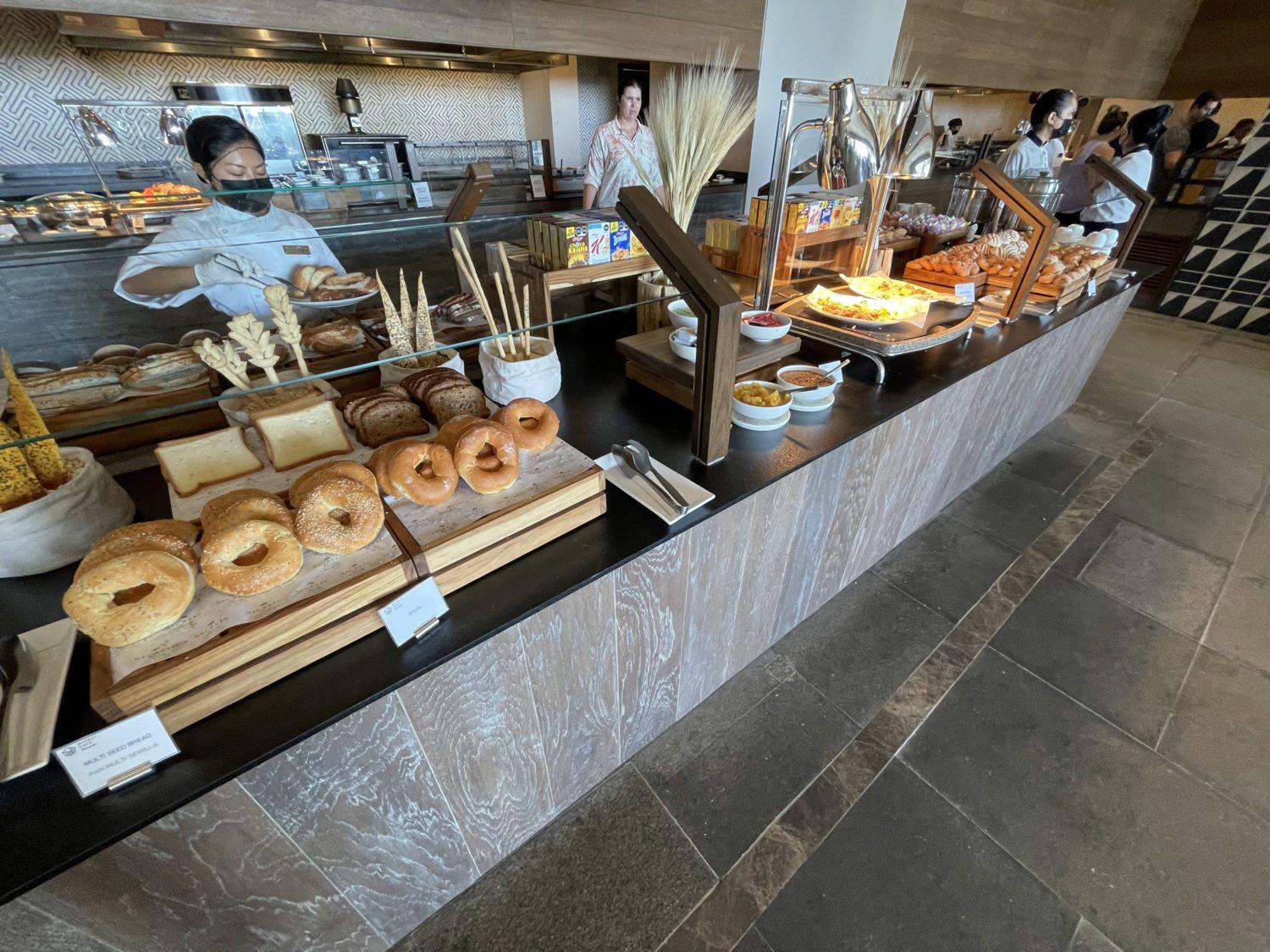 Thrifty Tip: Not in the mood for a crowded restaurant in the morning? Order room service on the tablet in your room. It typically only takes an hour and can be dropped off in your room's "Secrets Box" for a stress-free morning.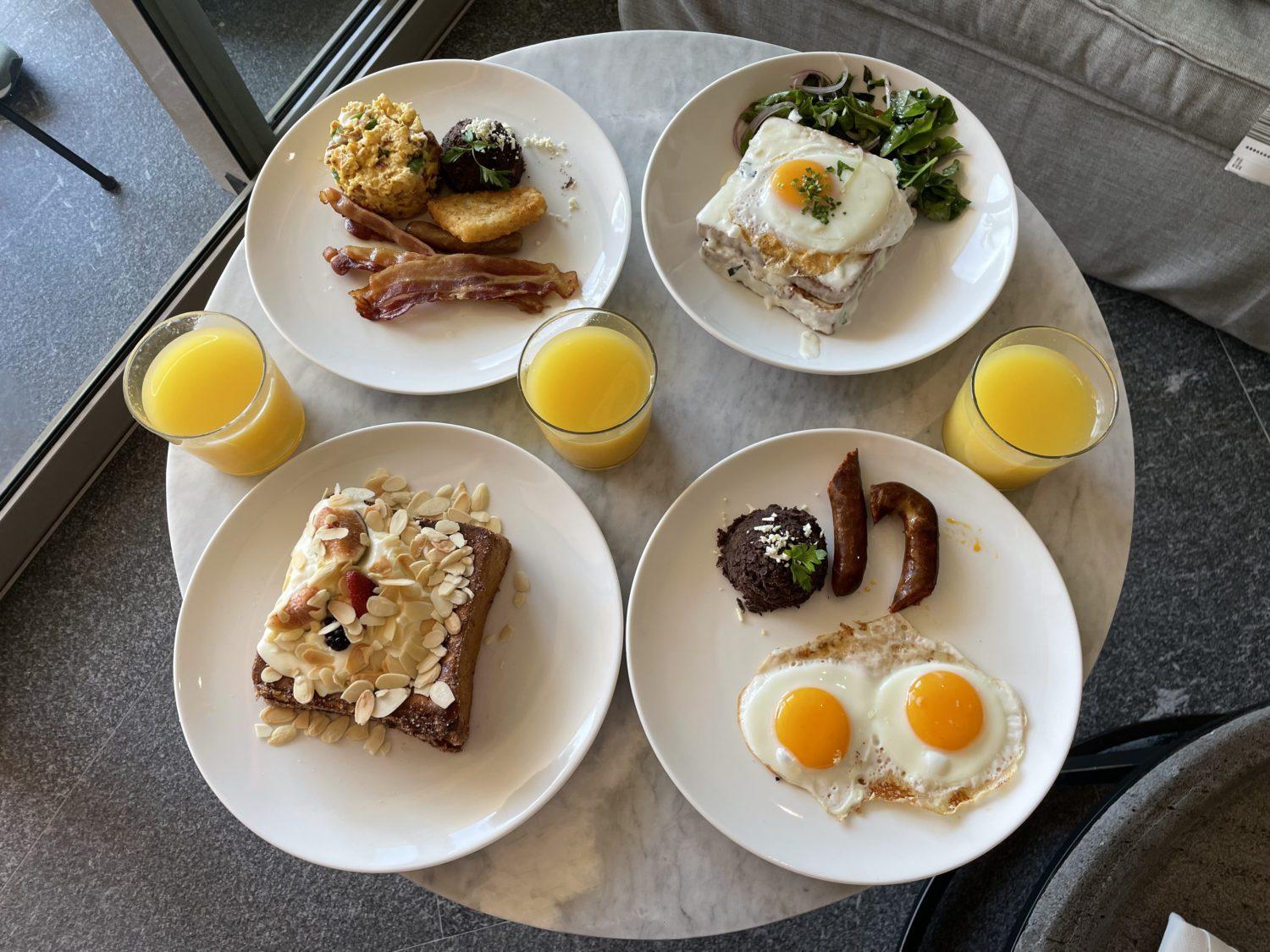 Coco Café
Open 24 hours a day, Coco Café was one of our favorite spots to visit. We'd grab a tasty coffee from the baristas to start each day, or get one on the way back to our room after a day at the beach or pool. It also has a wide range of food available, including cookies and pastries. This was a great option and I'm happy Secrets decided to include a second cafe at this property.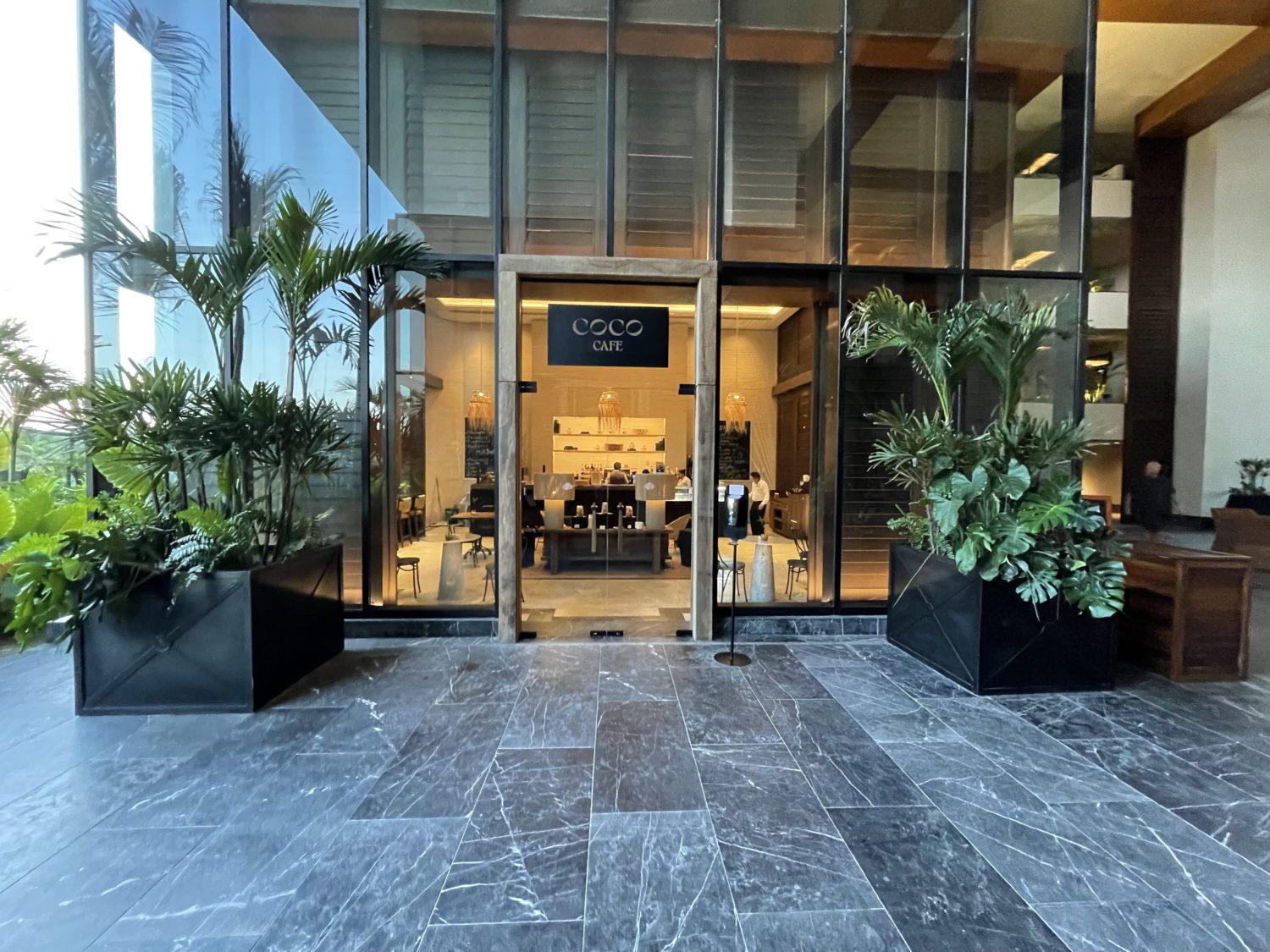 A daily visit to Barefoot Grill was a priority for us during our stay at Secrets Moxché. Barefoot Grill is a large hut located between the lagoon pool and the main pool that serves up tasty midday meals from 11 a.m. to 6 p.m. daily. Options included pizza, fish, hot dogs, burgers, tacos, and chicken sandwiches, among other things.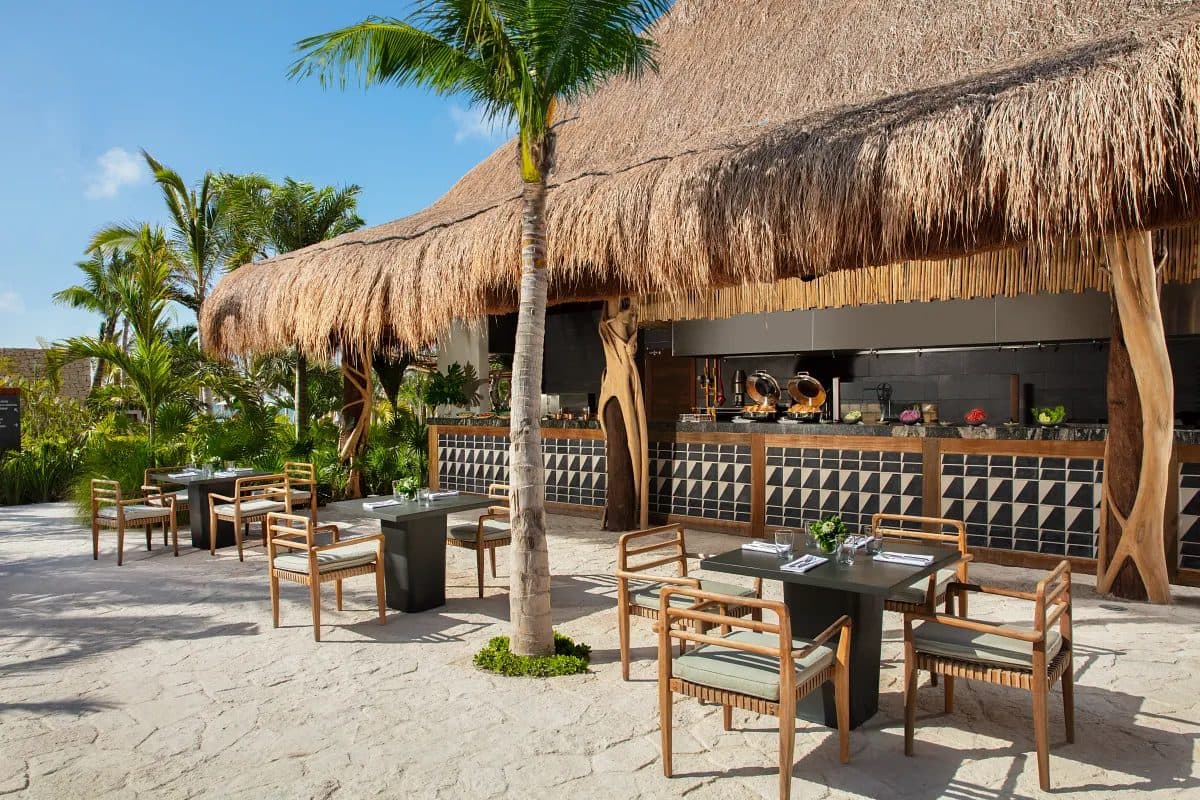 We tried a variety of items during our stay, but in my opinion, the cheeseburgers were the best. You order directly from the chefs and they cook your food right in front of you. It doesn't take long to get some quality food to power you through the rest of your day.
Seasoul
Seasoul is a seafood restaurant located next to the main pool and beach. It's open for lunch from 11:30 a.m. to 5 p.m. and dinner from 6-11 p.m. every day.
We only went here once, on our first day right after we arrived. We ordered a few different types of fish tacos and some ceviche, which we washed down with a couple of margaritas. It was our first full meal at the resort and between the food and the open-air concept of the restaurant, we were pleased with our experience.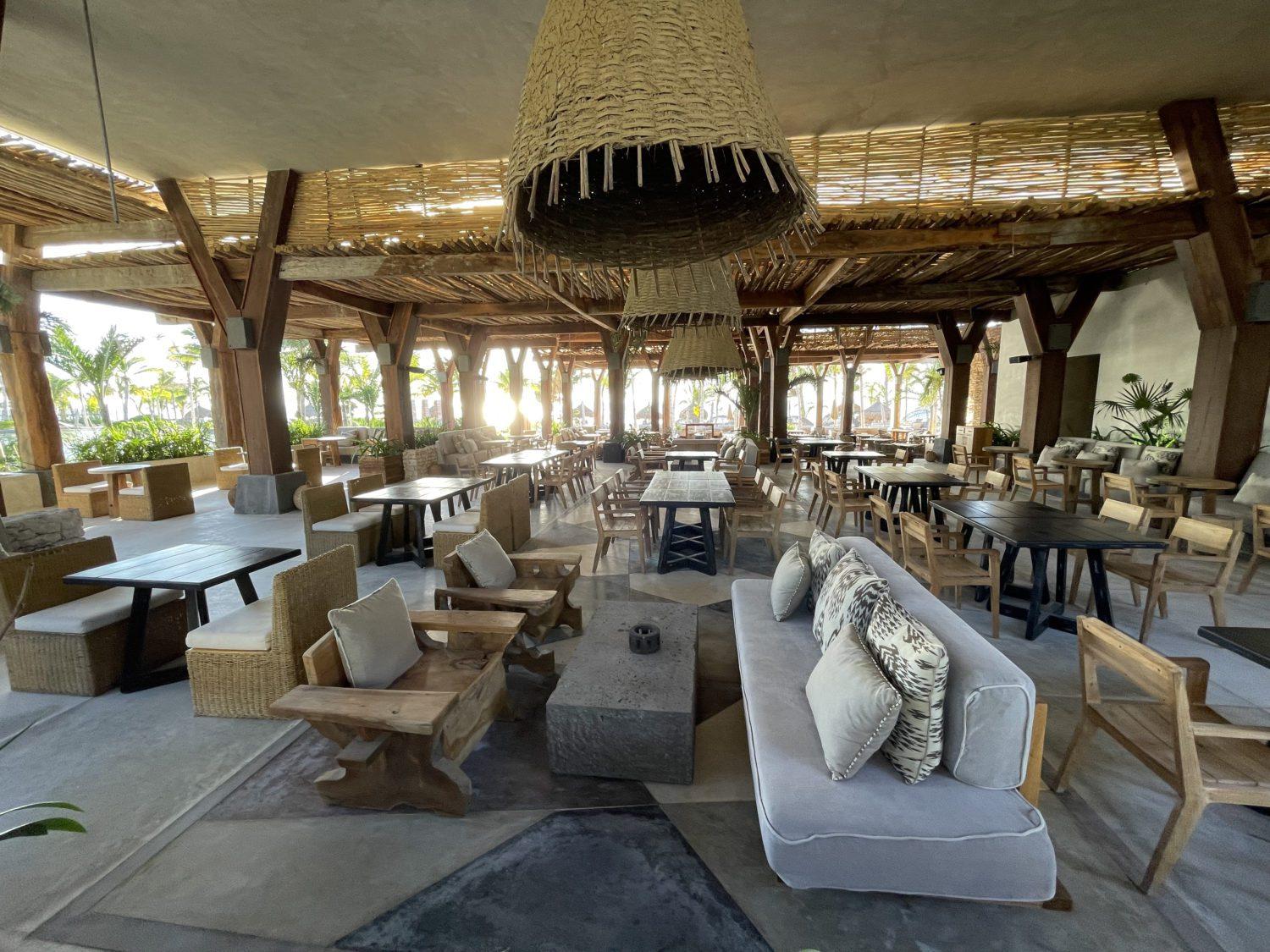 Even if you don't want a full meal, I'd recommend hanging out at the bar of Seasoul. It has rope swings right on the beach and is rarely busy.
Bamboo 
Bamboo is a lunch and dinner restaurant serving Southeast Asian cuisine. It's in a cool location, elevated right off the lagoon pool. It's open from 11:30 a.m. to 5 p.m. and 6 p.m. to 11 p.m.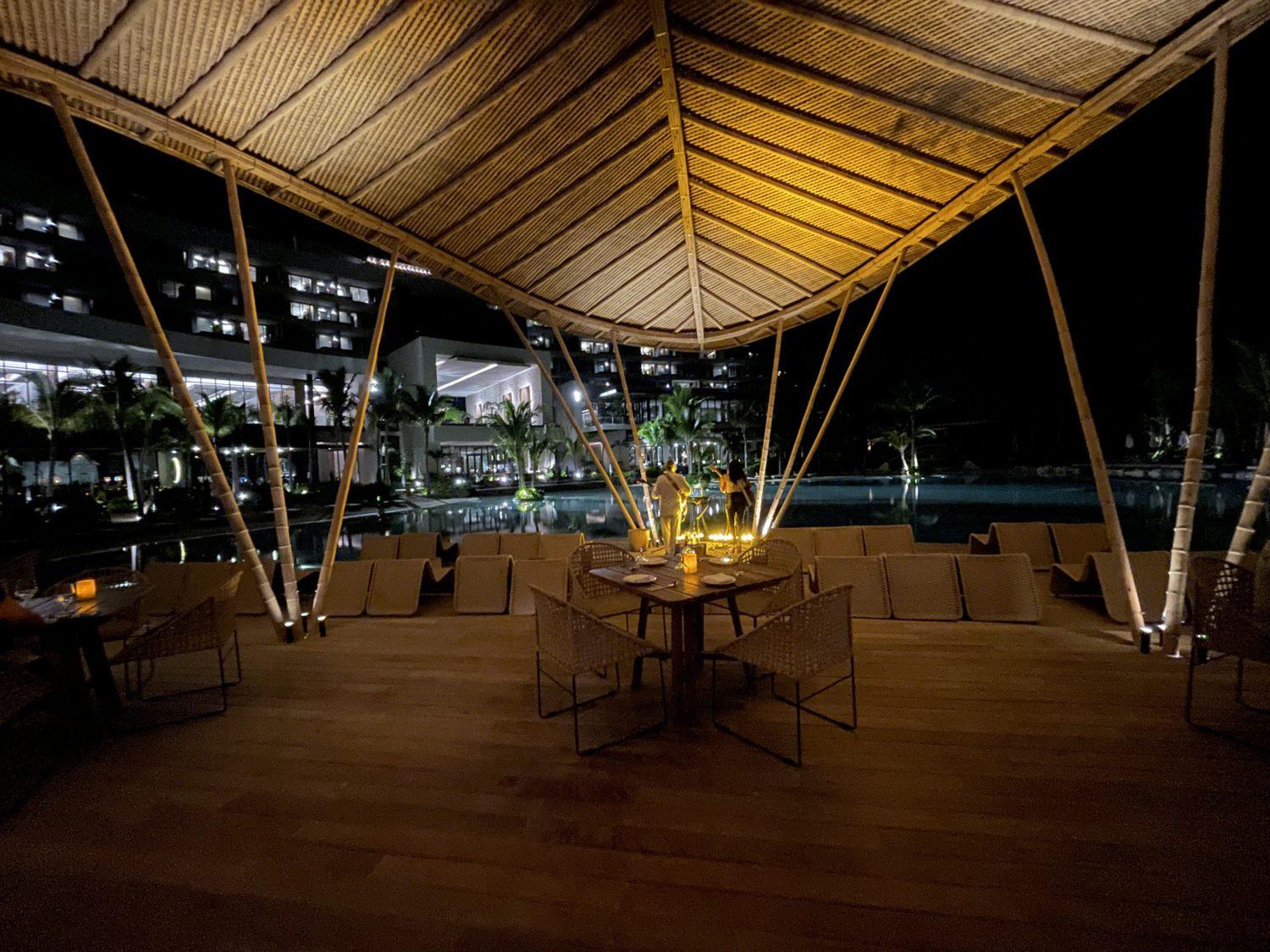 While we didn't get a chance to eat a meal at Bamboo, it was our go-to spot for an after-dinner cocktail. At night, they have musicians performing on the deck. It seemed like a popular choice to relax and take in the views in the evening. We enjoyed our several visits here.
Suki
This was my favorite dinner restaurant at Secrets Moxché and my wife and I managed to eat here several times during our trip.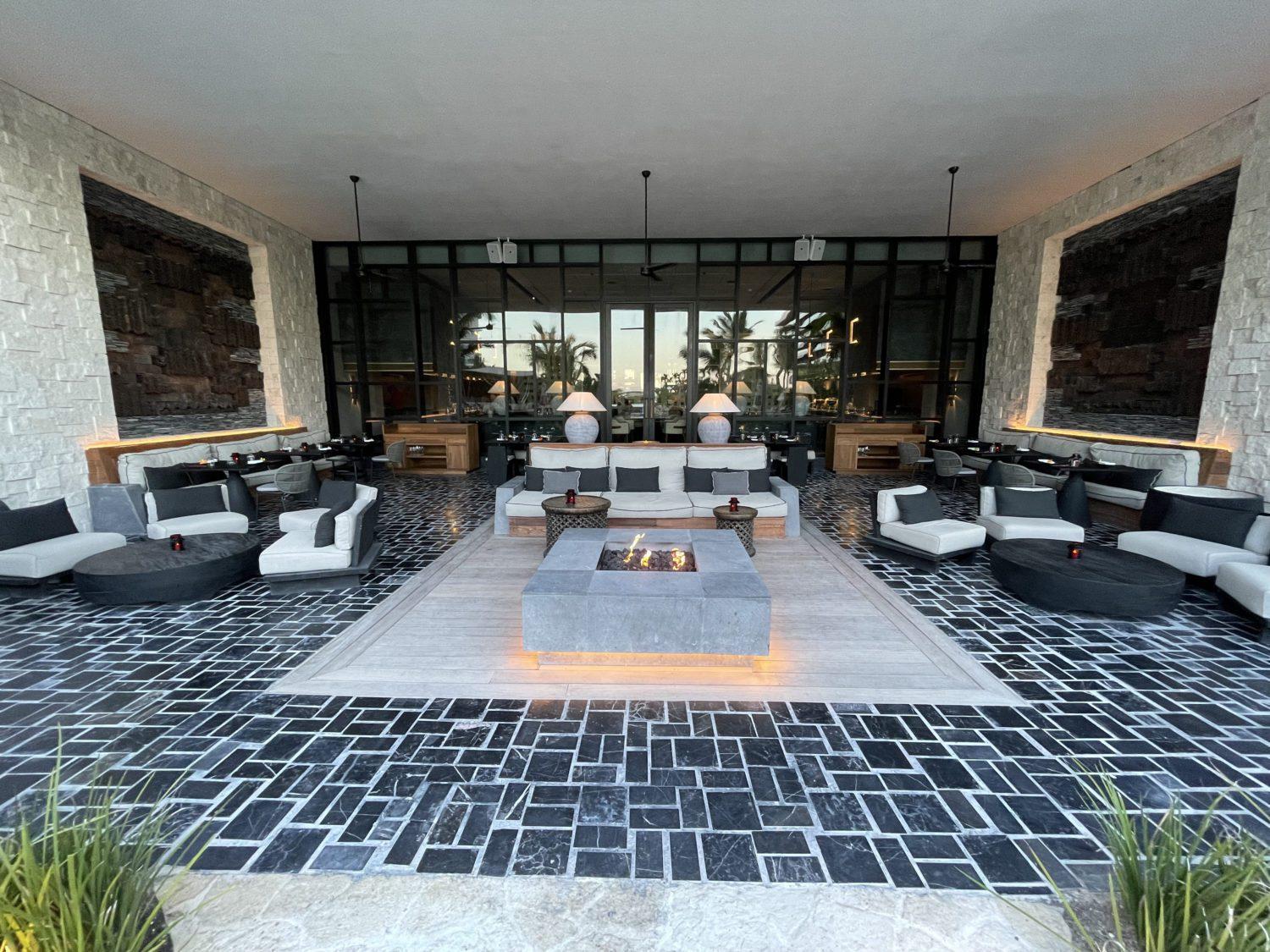 We are big sushi lovers and thought this place has some of the better sushi we've ever had. Even if our dinner plans were elsewhere, we'd begin the evening with some sushi at Suki.
Suki also features Teppanyaki-style dining every night. You must make reservations if you're looking for this experience and it's a good idea to make them the day you arrive (they were full for the first three days of our trip!).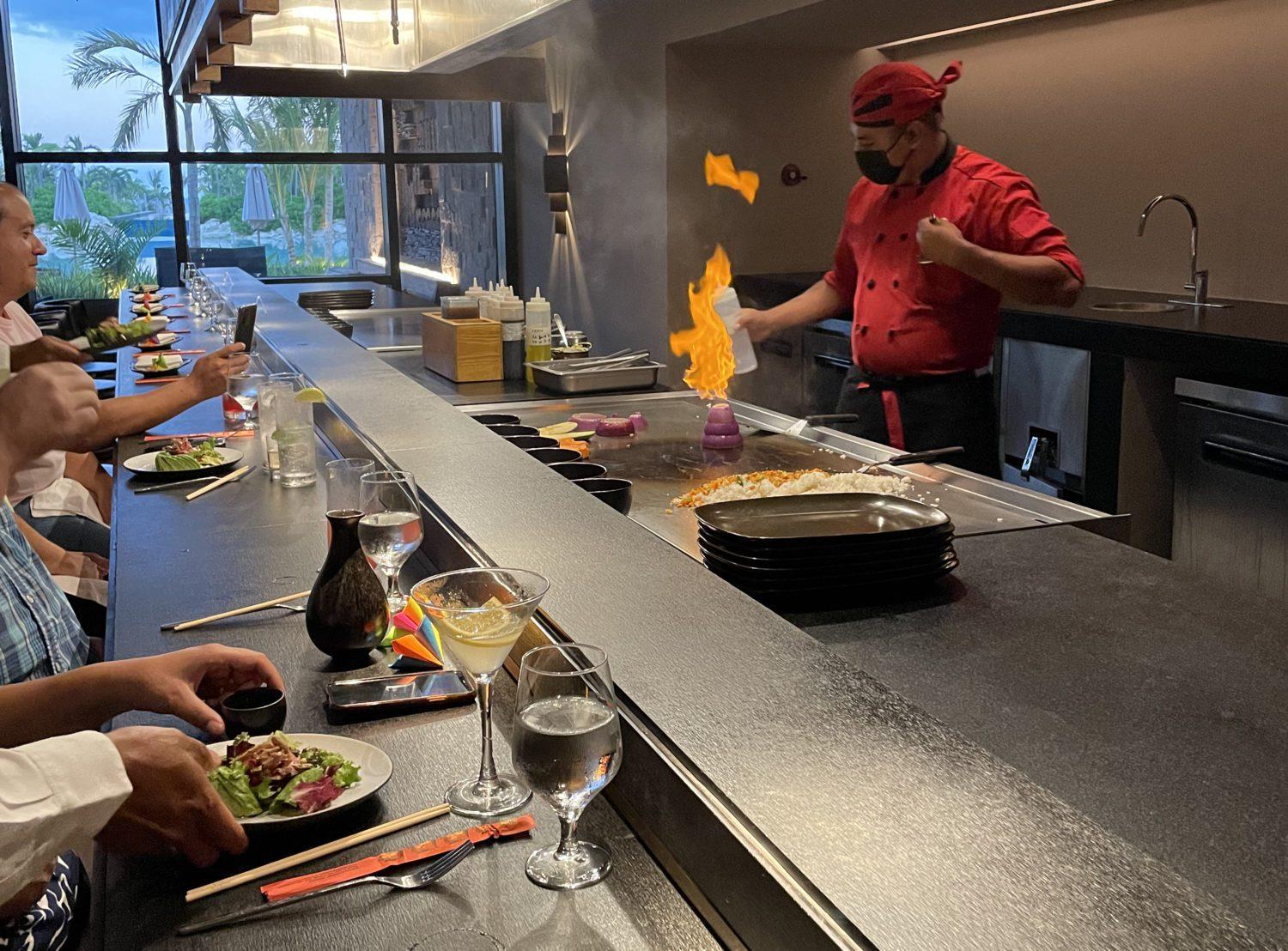 The chefs do a great job putting on a show in front of a long bar that sits nearly a dozen customers. We had a great time during the one night we tried the Teppanyaki and got to mingle with some guests as we enjoyed our meal.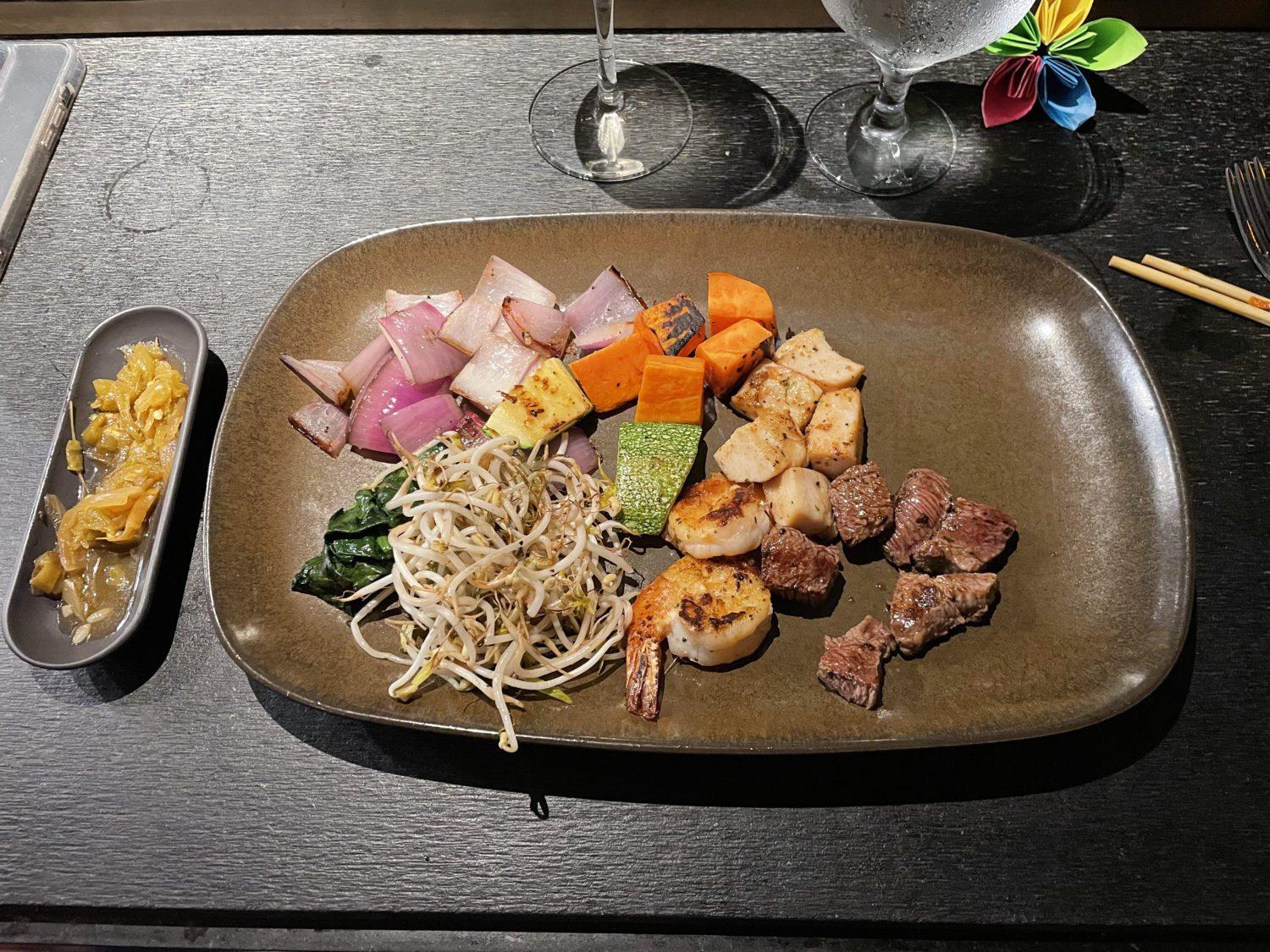 Suki is open from 6 p.m. to 11 p.m. No reservations are required for the main dining room. Reservations are required for Teppanyaki tables and can be made directly at the restaurant or by contacting your concierge. 
Allora 
Allora, the Italian restaurant on the property, was our second favorite spot for dinner. It's open from 6 p.m. to 11 p.m.
We started out with some white wine and fresh bread with tasty olive oil. I ordered the fettuccine alfredo and my wife got the pesto, both of which we really enjoyed. Everything from the presentation to the wine to the service was fantastic.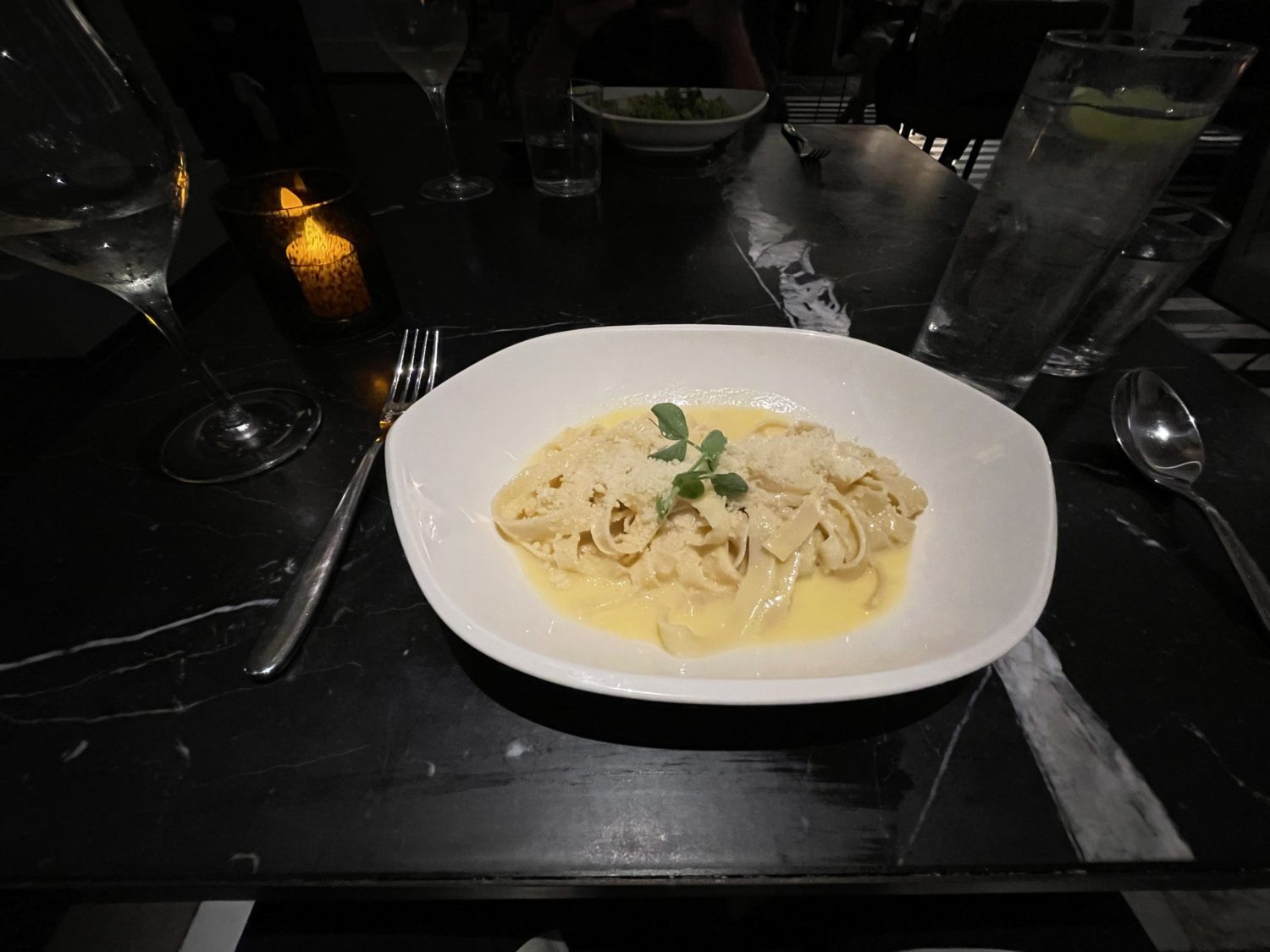 Ember 
Ember, described as an open-fire grill and smokehouse, is arguably the prettiest restaurant at Secrets Moxché with walls adorned with skeletons and nice accenting lighting. You can opt to dine indoors or outdoors. Ember's hours are 5 p.m. to 11 p.m.
We decided to try a few things during our visit to Ember, starting off with some fried mushrooms and shrimp. The appetizers were probably the highlight of our meal.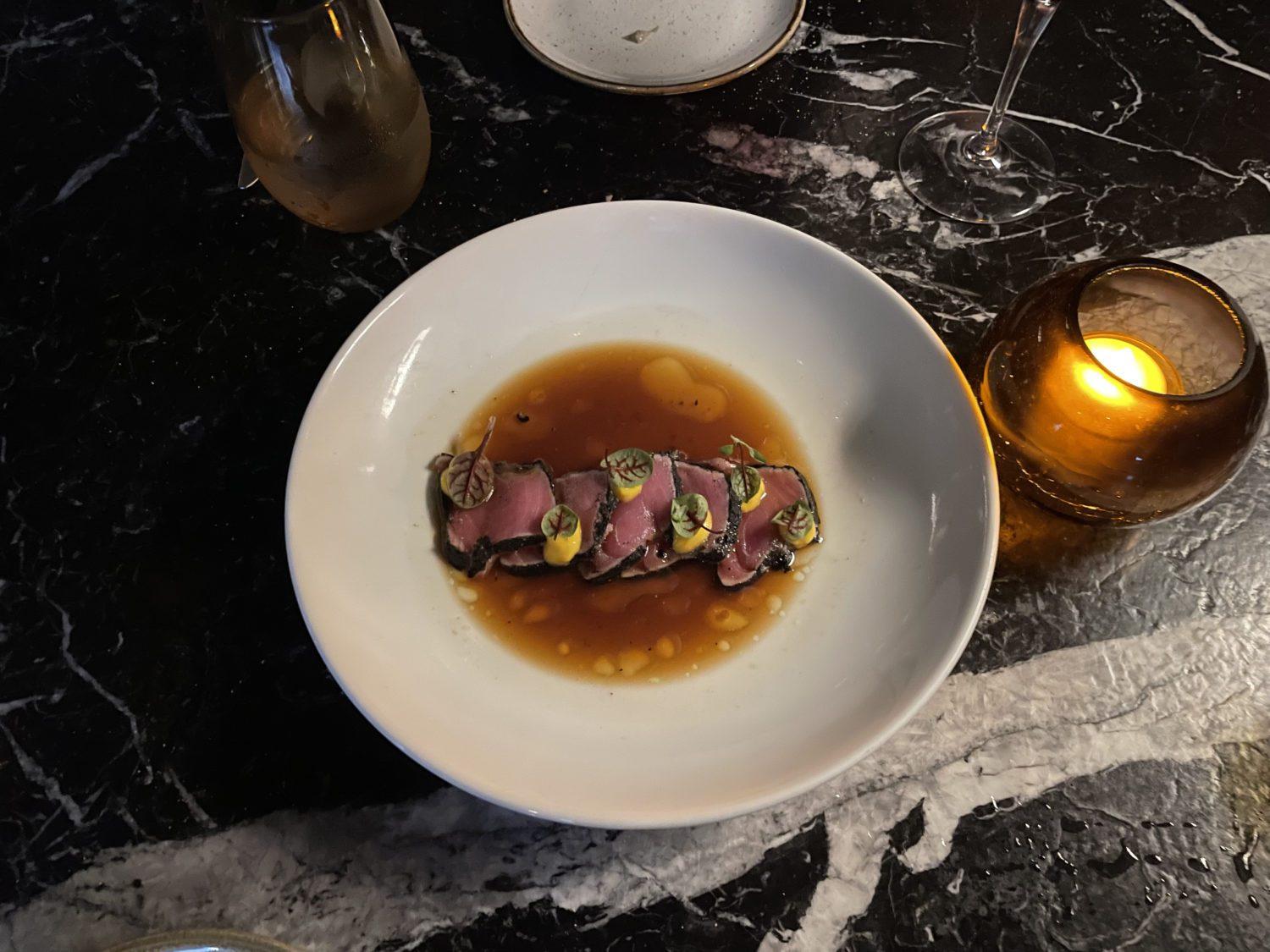 For the main course, I chose the steak and my wife went with the chicken. All in all, the food was pretty good! The appetizers had some good flavors to them and the main courses were tasty. We ended up having a good time and our server was very friendly and made our experience nice.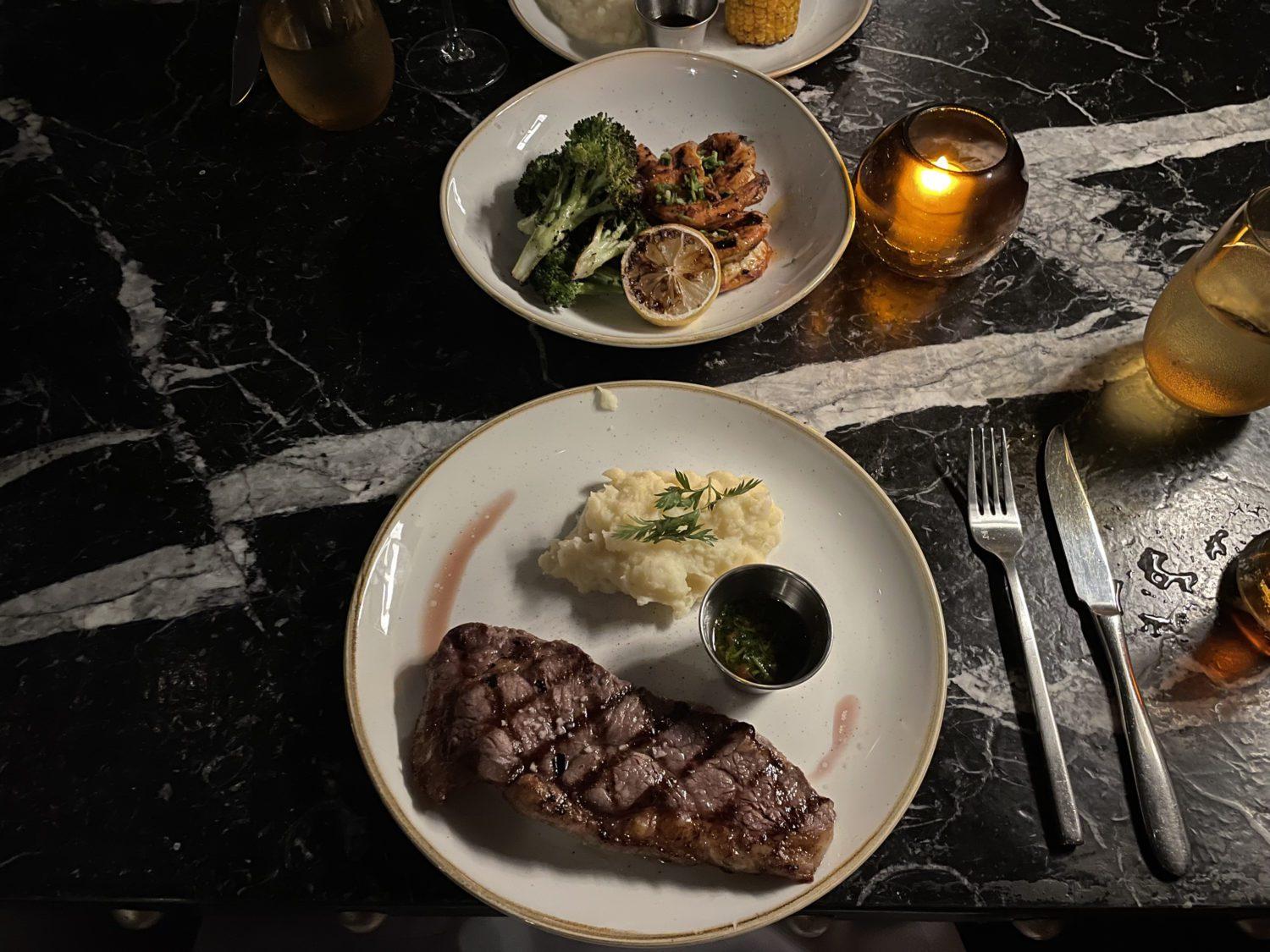 Bisou 
On our last night of the trip, we checked out the French restaurant, Bisou. We were excited because we've always loved the French restaurants at the other Secrets properties we've stayed at.
Bisu, however, was quite different from previous experiences we've had. The food was geared more toward presentation than taste, the dishes were small, and the flavors were not the best.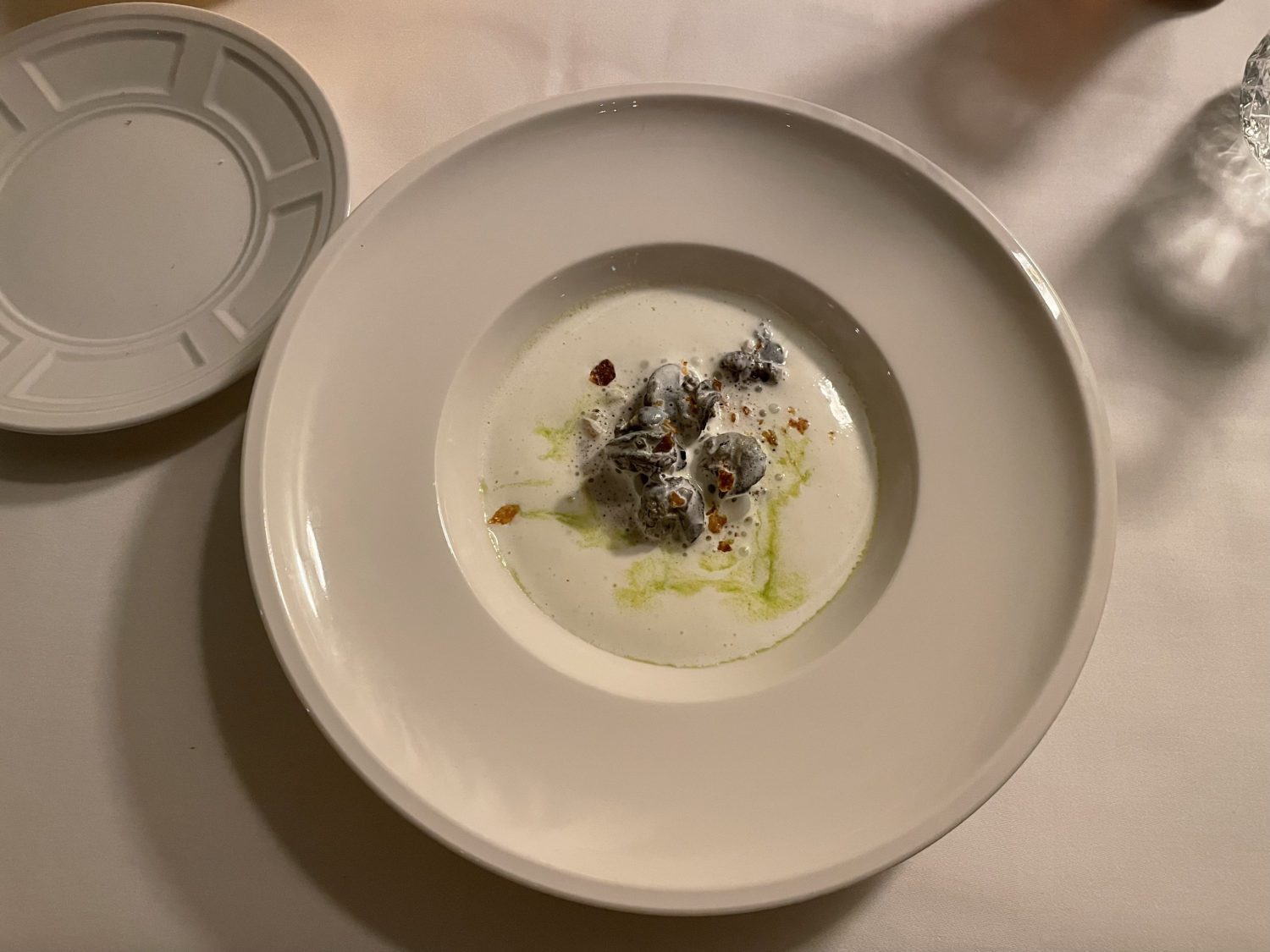 My steak didn't seem like a good cut of meat. It wasn't very tender and was rather flavorless. We would have left a little more disappointed if the wine and dessert hadn't made up for the main course.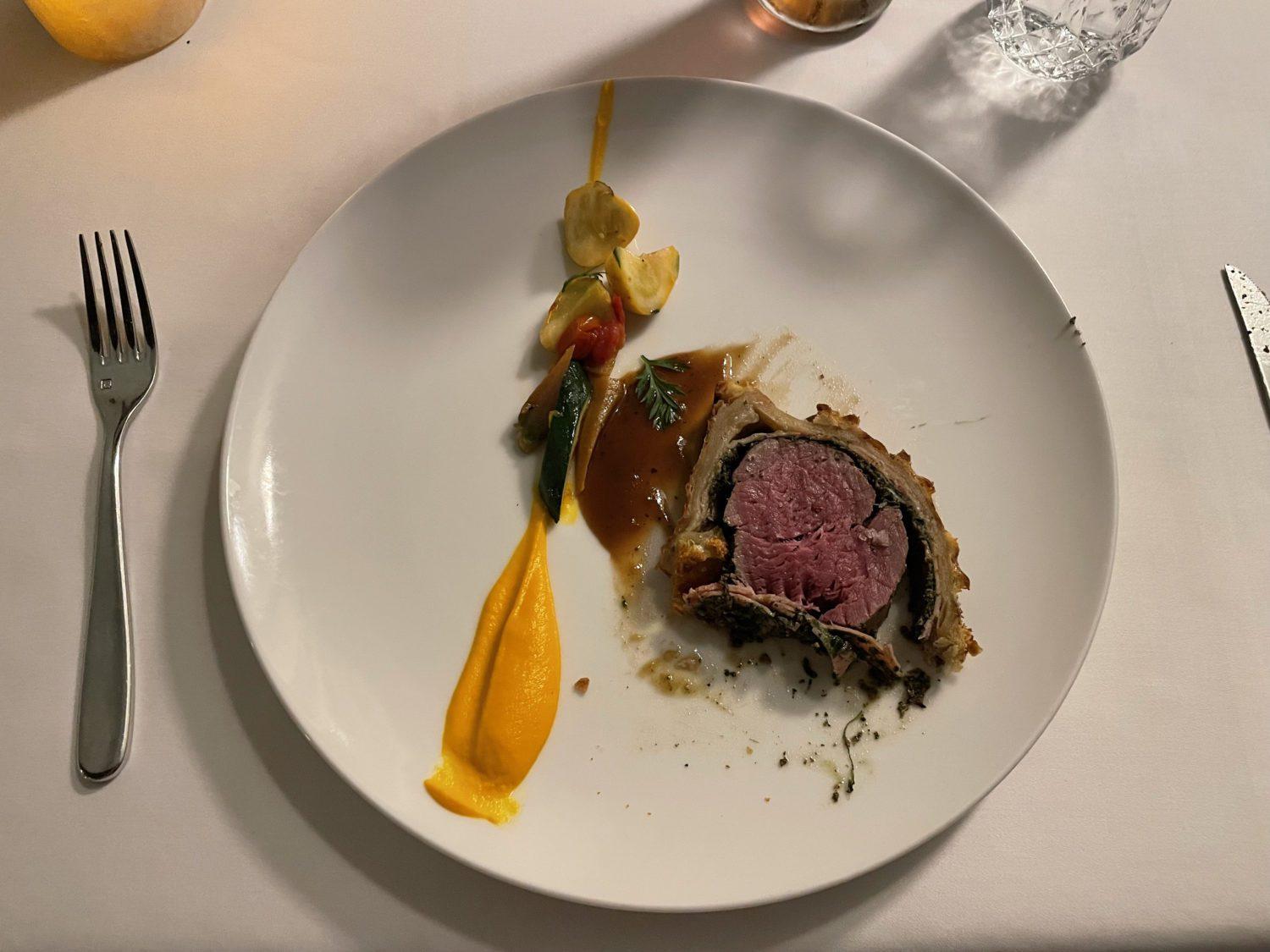 Bisou is open from 6 p.m. to 11 p.m.
Dos Almas
Full disclosure: We didn't eat at the Mexican restaurant Dos Almas during our stay. The guests we spoke with who had tried all the restaurants at Secrets Moxché said it was the worst restaurant on the property and based on our previous experiences at similar restaurants at other Secrets resorts, we decided to skip it.
Dos Almas is open from 6 p.m. to 11 p.m.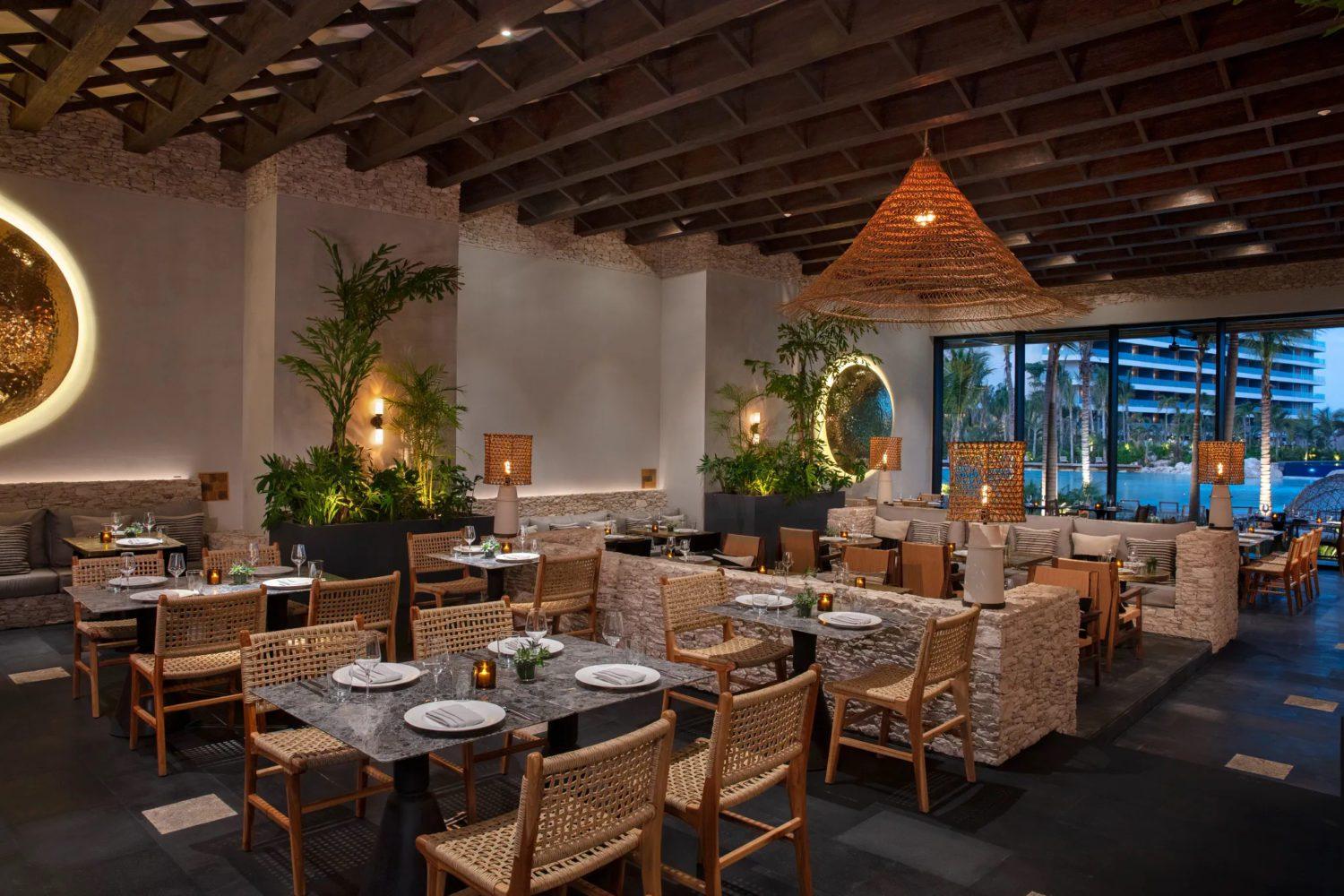 Secrets Moxché Bars
Dark Horse Sports Bar
There are sports bars, and there are sports bars. In the case of Secrets Moxché, this is the latter of the two. Dark Horse Sports Bar sets the standard well above anything I've ever seen in regard to an all-inclusive sports bar in Mexico. This two-story establishment has it all. From the stunning display on the gigantic wall behind the bar to the golf simulator on the top floor to the number of big-screen televisions, this place well went beyond what I expected.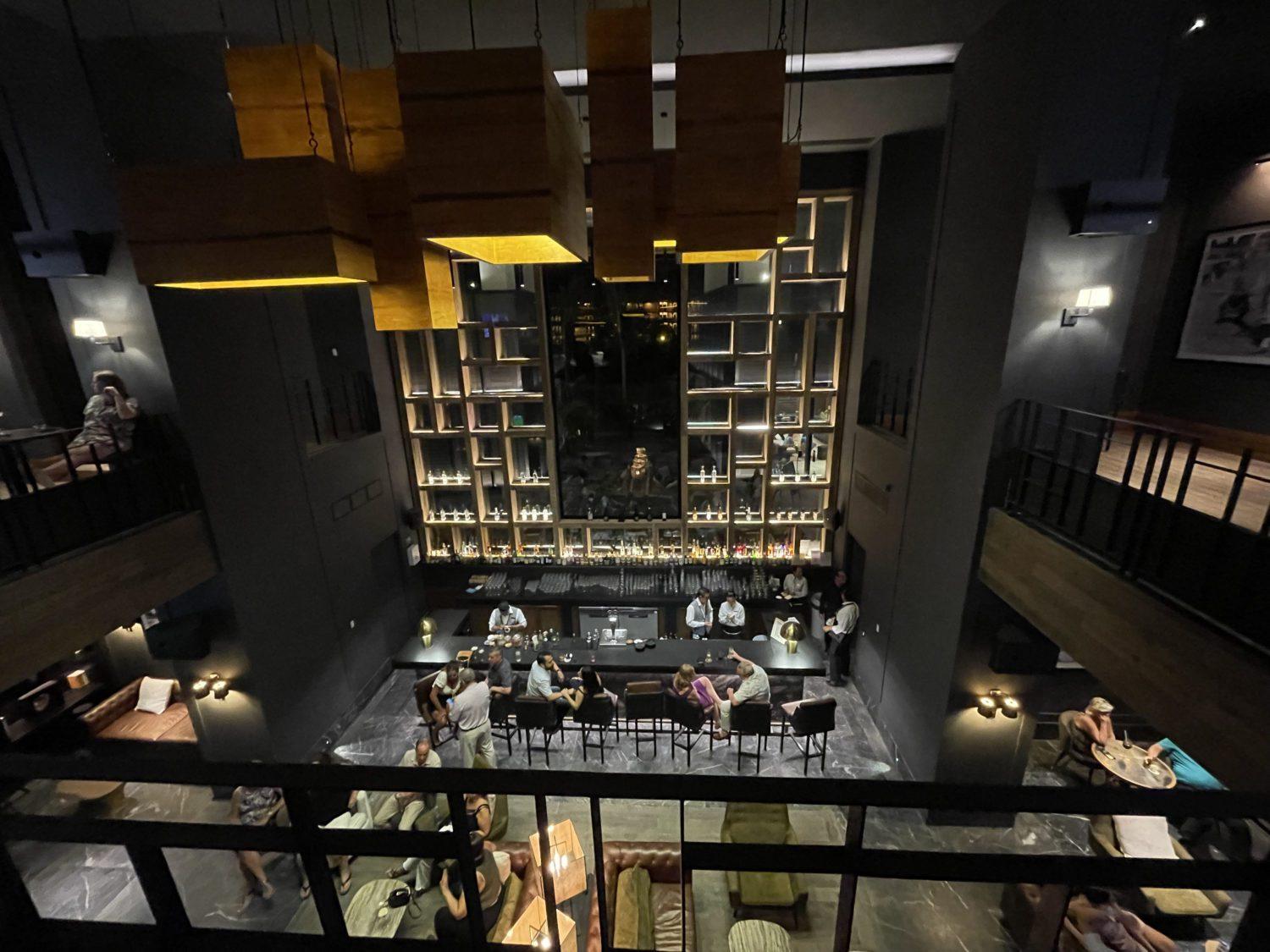 Beyond showing all the big sporting events of each day, Dark Horse also is home to some wild karaoke sessions and other fun activities like foosball. 
Most of our nights at the resort usually with a drink at Dark Horse, which is open from 5 p.m. to 1 a.m. daily. 
The Cove Bar
The Cove Bar is located right on the beach of the lagoon pool and is open from 10 a.m. to 6 p.m. daily. Its location and design were part of the appeal for us and we enjoyed several afternoons here.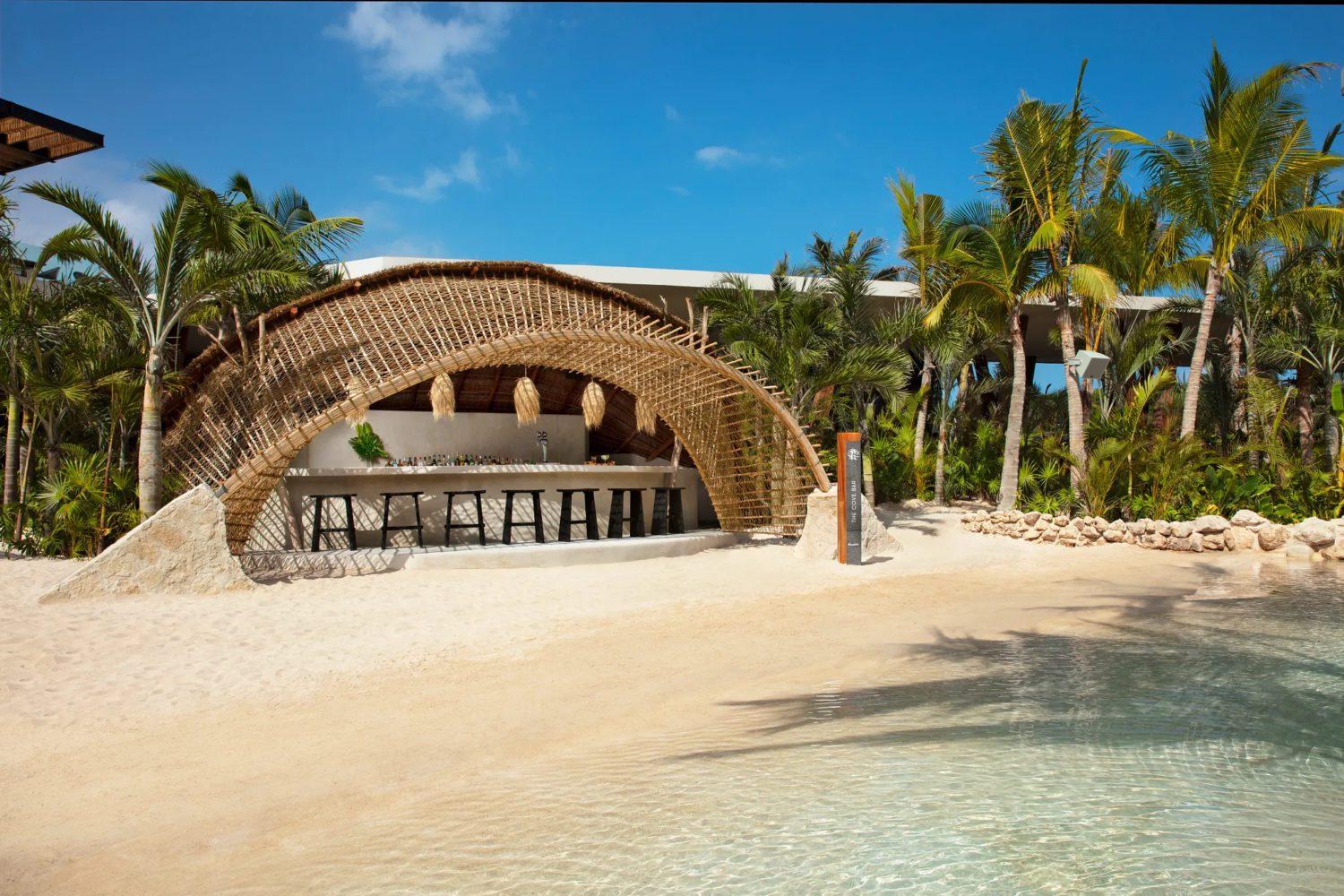 It's just a short trot out of the lagoon pool to grab your next round of drinks or post up on one of the several bar stools and take a break from the sun in the shade. It never seemed to be too busy.
Mantarray Pool Bar
Mantarray Pool Bar is a swim-up bar located at the end of one of the bigger pools closer to the beach. It is open from 10 a.m. to 6 p.m.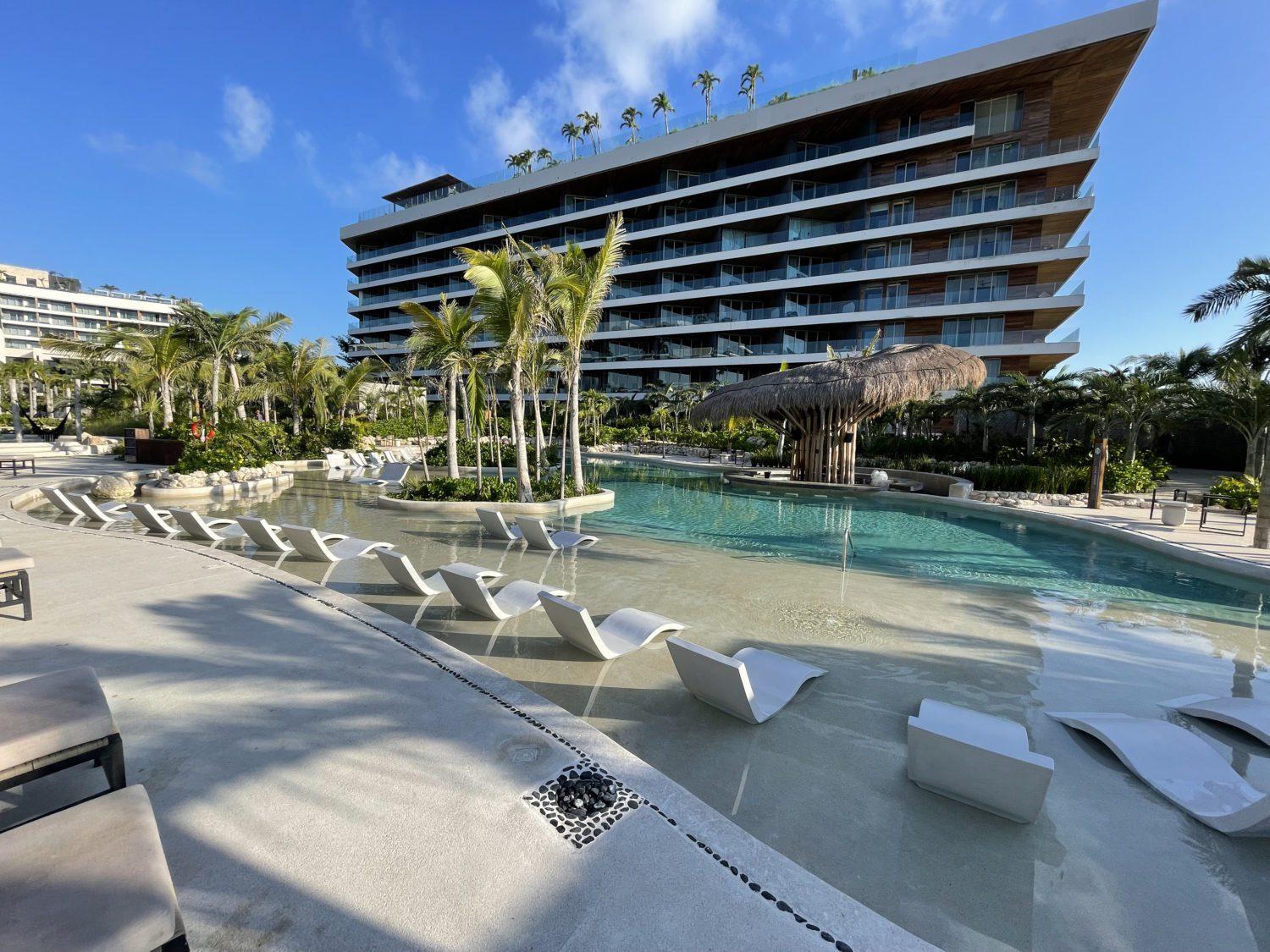 We only spent one afternoon here. The pool itself isn't as big or nice as the main pool or lagoon pool and the bar was pretty quiet. That said, it's a good place to go if you want to get away from the crowds for a bit and have a drink at a relatively calm swim-up bar.
Sugar Reef Pool Bar
If you're looking for a swim-up bar with a lot of energy and good entertainment, Sugar Reef is the place to be. Sugar Reef Pool Bar is located on the north end of the main pool close to the main beach and is open from 10 am to 6 pm.
Situated very close to the beach, this bar is located in the perfect spot. There are several larger permanent bar seats underwater that were big enough for two people to share. There's also plenty of room if you're looking to grab a drink and continue on.
The bar usually started to fill up around noon, and it didn't take long after that for the area to get fun. And, there are musical performances right next to the bar every day. Needless to say, we had a lot of fun during our time at Sugar Reef.
Moxché Lobby Bar
The lobby bar is located right next to the Market Café. It's open from 10 a.m. to 11 p.m. We never got a drink here, but it looked like a decent spot with a nice setup and never appeared to be busy.
Secrets Moxché Service
If there's one thing every Secrets property I've stayed at has in common, it's the service. Secrets Moxché is no exception.
The staff takes a great amount of pride in being as attentive, polite, warm, and welcoming as possible. It was noticeable from the moment we entered the property to the time we checked out. It didn't matter if it was a gardener, maintenance man, activity staff, or server, all staff members on the property were quick to greet you with a "Buenos Dias" or "Hola" as you walked by.
The service was efficient, too. Servers and bartenders were quick to refill our drinks and clear our plates, especially on the beach – someone always seemed to show up right when we needed anything.
Secrets Moxché goes above and beyond most other all-inclusive resorts in Mexico when it comes to service. We were very impressed.
Bottom Line
Overall, Secrets Moxché Playa del Carmen was probably the most beautiful all-inclusive resort I've ever stayed at, and I've stayed at several.  The combination of delicious food and drinks, next-level service, and a stunningly elegant design makes this one of my favorite resorts I've ever been to. 
Take advantage of one of the best uses of Hyatt Points out there and plan your next vacation at Secrets Moxché!