2023 World Baseball Classic Quarterfinal: USA vs Venezuela preview, how to watch, more | amNewYork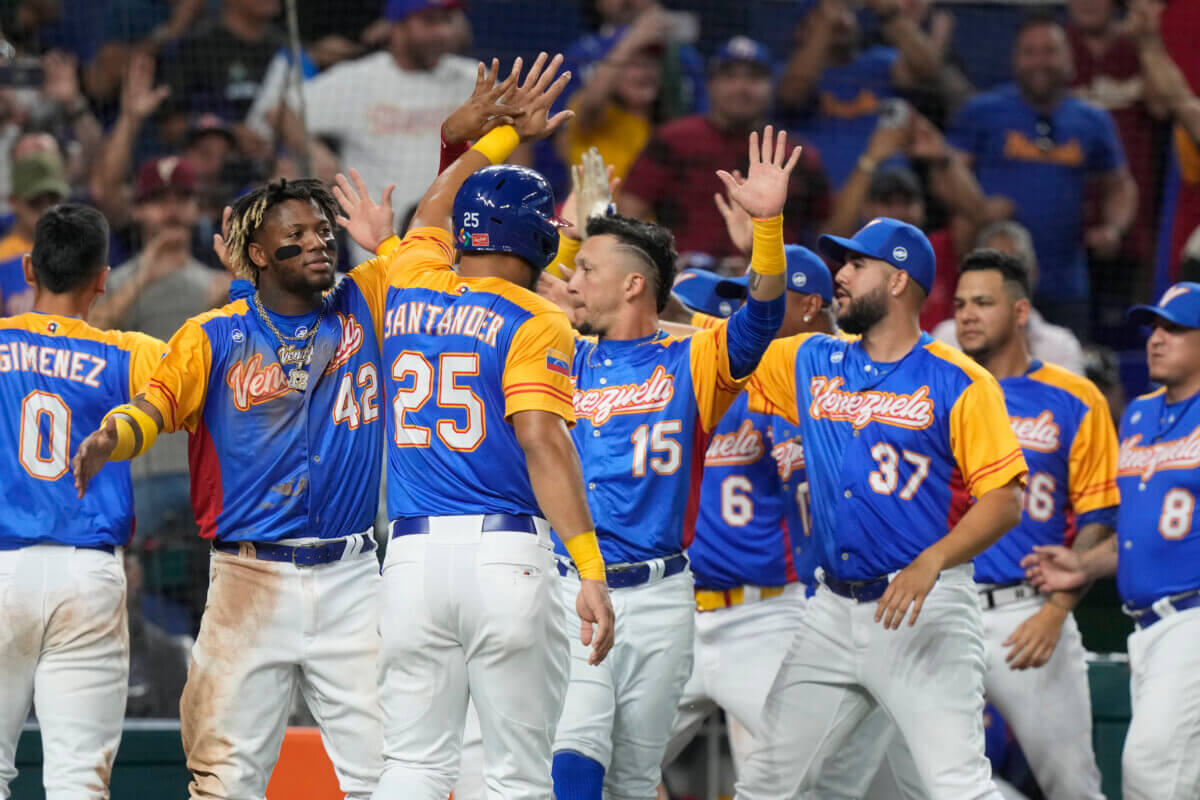 With a 3-2 win over Colombia in the final game of pool play, the United States advanced to the quarterfinal of the World Baseball Classic. Since Mexico also finished 3-1 and beat Team USA in the second game of the event, Mexico was the top seed from the pool; although, they got arguably the tougher matchup since they will have to face Puerto Rico, who eliminated the betting favorites, the Dominican Republic in a win on Thursday night that also led to the Edwin Diaz injury. 
With the World Baseball Classic transitioning out of pool play, the event has now entered the elimination portion where a loss sends a team packing. Team USA needs to win three games in order to successfully defend their title from the last World Baseball Classic. 
However, it all starts with a showdown against Venezuela
USA (3-1) vs Venezuela (4-0)
How to Watch:
Date: Saturday, March 18th 
Time: 7 p.m. ET
Channel: FOX 
Projected Lineups: 
United States
RF Mookie Betts (Dodgers)
CF Mike Trout (Angels)
1B Paul Goldschmidt (Cardinals)
3B Nolan Arenado (Cardinals)
DH Kyle Schwarber (Phillies)
LF Kyle Tucker (Astros)
2B Tim Anderson (White Sox)
SS Trea Turner (Phillies)
C J.T. Realmuto (Phillies)
SP: Adam Wainright (Cardinals)
Venezuela
2B Jose Altuve (Astros)
RF Anthony Santander (Orioles)
DH Gleyber Torres (Yankees)
C Salvador Perez (Royals)
CF Ronald Acuña Jr. (Braves)
SS Andres Gimenez (Guardians)
1B Eugenio Suarez (Mariners)
3B Eduardo Escobar (Mets)
LF David Peralta (Dodgers)
SP: Martin Perez (Rangers)
Matchup Preview:
There will be a few familiar faces for New Yorkers when Team USA takes on Venezuela as current Yankee Gleyber Torres and current Met Eduardo Escobar join former Mets prospect Andres Gimenez in a talented Venezuela lineup that won its pool with an undefeated 4–0 record, scoring 23 runs and giving up just nine.
Despite their being bigger names on the team, Orioles' outfielder Anthony Santander has been the star for Venezuela, hitting .429 with two HRs and five RBI in pool play. Mariners' third baseman Eugenio Suarez was also 6-for-10 with a home run and six RBI in his three games played. 
Team USA was less convincing in its pool play. After exploding for 12 runs on Monday against Canada, the bats were quiet yet again. Except for Mike Trout, who drove in all three of Team USA's runs and made a crucial catch in centerfield to get starter Merrill Kelly out of a jam in the third inning.
With a one-run lead, Team USA manager Mark DeRosa leaned heavily on his dominant bullpen which was fresh off a day of rest in the mercy rule win of Canada. A combination of Kendall Graveman, Daniel Bard, David Bednar, Jason Adam, Devin Williams, and Ryan Pressly finished the game by allowing only three Colombia batters to reach base after the fourth inning. 
With two days off until their showdown against Venezuela, Team USA's bullpen should be at full strength again, which will be crucial if they hope to advance. 
The Americans have the 5th-highest OPS as a team through pool play and just the 12th-highest batting average, hitting .268/.367/.480 as a team with four home runs; however, they only struck out 25 times as a team in four games, which was the fourth-lowest mark of any team in the World Baseball Classic. 
Things will get a bit tougher for them against a Venezuela team that has a team ERA of 2.00 in pool play, which was 2nd-best behind only Japan. The Venezuelan pitchers also struck out 46 batters in 36 innings, which was a far more dominant performance than Team USA, which put up a 4.24 staff ERA with just 37 strikeouts in 34 innings pitched. 
Considering Adam Wainwright is a bit past his prime, it will fall on this dominant bullpen to give the defending champions a chance to advance. 
Elsewhere in the World Baseball Classic, Team Japan and Team Cuba have already advanced to the semi-finals of the World Baseball Classic. The winner of the USA-Venezuela game will face Team Japan and their fearsome pitching staff in the semi-finals on Monday night. 
Prediction: 
Both of these teams feature talented lineups, but I think Team USA's is slightly deeper and has a touch more star power. That could be the difference in a matchup between two pitchers who don't have overpowering stuff and will look to limited hard contact. Pairing that with the American's advantage in the bullpen gives them a slight edge here. 
These countries are 2-2 head-to-head in the World Baseball Classic with Team USA winning their second-round game in the 2017 World Baseball Classic 4–2 win en route to winning the trophy.
USA 4 – Venezuela 2
For more coverage of the World Baseball Classic, visit amNY Sports