2023 Valspar Championship Odds, Expert Picks: Tommy Fleetwood, Justin Suh & Gary Woodland Fit Copperhead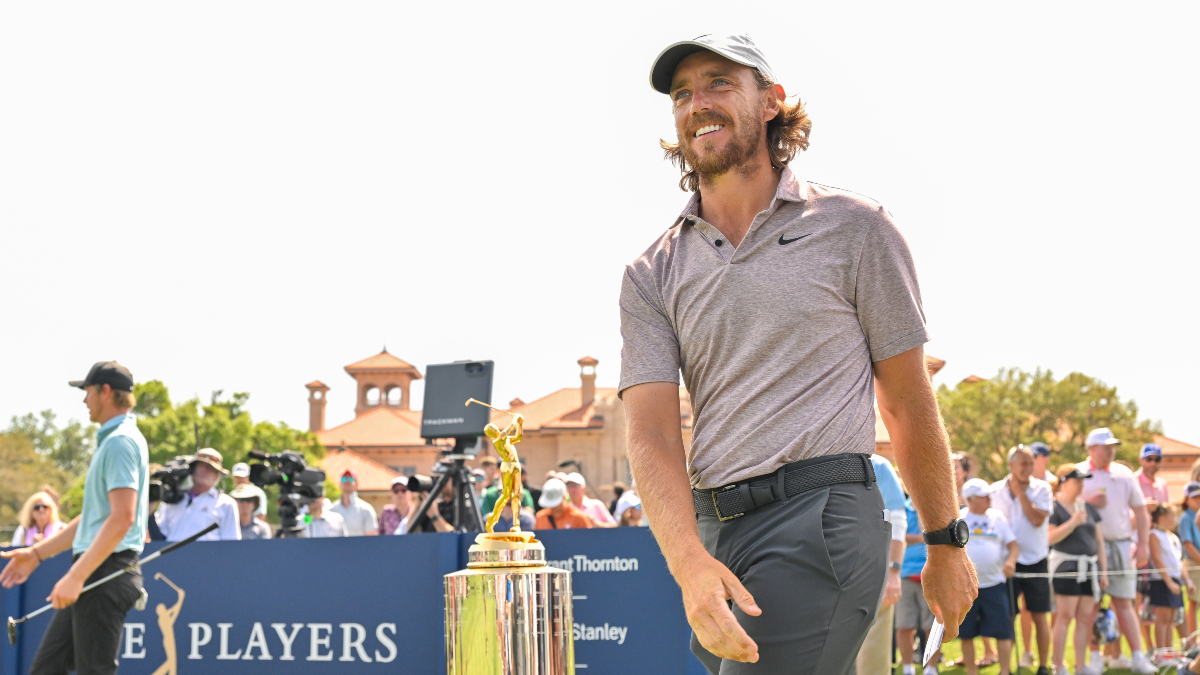 The PGA TOUR will stay in Florida this week for the 2023 Valspar Championship.
The Copperhead Course at Innisbrook Resort is a par 71 measuring 7,340 yards and features Bermudagrass greens overseeded with Poa Trivialis. Infamous for its difficulty, the track will be a tough test for golfers as trouble lurks all over the place. Holes 16, 17 and 18 — also known as the "Snake Pit" — make up one of the toughest three-hole stretches in golf and should lead to a captivating finish on Sunday.
The field is comprised of 156 golfers teeing it up. Due to the string of designated events on TOUR with the top players competing frequently over the last six weeks, the Valspar Championship field has taken a hit in 2023.
But as we saw with the Honda Classic, field strength doesn't always matter when it comes to producing an exciting golf tournament. Some notable players in the mix include Justin Thomas, Matt Fitzpatrick, Jordan Spieth, Keegan Bradley, Tommy Fleetwood, Justin Rose and Taylor Montgomery.
Past Winners at Valspar Championship
2022: Sam Burns (-17)
2021: Sam Burns (-17)
2019: Paul Casey (-8)
2018: Paul Casey (-10)
2017: Adam Hadwin (-14)
2016: Charl Schwartzel (-7)
2015: Jordan Spieth (-10)
---
5 Key Stats For Copperhead
1. Strokes Gained: Approach
Strokes Gained: Approach grades out as the most important statistic once again this week. Copperhead really can't be overpowered and is a second-shot golf course.
Total SG: Approach Over Past 24 Rounds
Wyndham Clark (+17.4) (+3500)
Ben Martin (+16.6) (+9000)
Russell Knox (+15.5) (+18000)
Sam Ryder (+15.1) (+8000)
Nick Hardy (+14.9) (+13000)
2. Good Drives Gained
The long hitters can be a bit limited here due to the tree-lined fairways and penal rough. Playing from the fairways will be important, but laying back too far will cause some difficult approaches with firm greens that may not hold shots from long irons.
Golfers who have a good balance of distance and accuracy have the best chance this week.
Good Drives Gained Over Past 24 Rounds
Justin Suh (+29.9) (+4000) 
Nate Lashley (+27.3) (+8000)
Dylan Wu (+20.2) (+15000)
Aaron Rai (+20.1) (+6000)
Justin Rose (+19.2) (+2200)
3. Strokes Gained: Ball Striking
Adding ball-striking puts even more of a premium on tee-to-green prowess in the statistical model this week. Golfers who rank highly in ball-striking are in total control of the golf ball which is exceedingly important at Copperhead.
SG: Ball Striking Over Past 24 Rounds:
Gary Woodland (+30.1) (+4000)
Jhonnatan Vegas (+25.9) (+6500)
Nick Hardy (+23.9) (+13000)
Wyndham Clark (+19.5) (+3500)
Joseph Bramlett (+18.6) (+11000)
4. Bogey Avoidance
With the conditions likely to be difficult, avoiding bogeys will be crucial this week. In a challenging event like the Valspar, oftentimes the golfer who is best at avoiding mistakes ends up on top.
Gritty golfers who can grind out difficult pars have a much better chance in an event like this than a low-scoring birdie-fest.
Bogey Avoidance Over Past 24 Rounds
Maverick McNealy (+18.4) (+4000)
Matt Fitzpatrick (+16.2) (+1800)
Eric Cole (+15.6) (+10000)
Ben Griffin (+14.8) (+5000)
Alex Smalley (+13.5) (+9000)
5. Greens in Regulation Gained
I am adding GIR: Gained to the model to further include golfers who can control the golf ball. Consistently hitting fairways and greens will provide golfers with the best chance of winning this week.
Greens in Regulation: Gained Over Past 24 rounds
Alex Smalley (+30.1) (+9000)
Aaron Rai (+27.2) (+6000)
Justin Suh (+24.9) (+4000)
Joseph Bramlett (+24.2) (+11000)
Will Gordon (+24.1) (+6500)
---
The Valspar Championship Model Rankings
Below, I've compiled overall model rankings using a combination of the five key statistical categories previously discussed — SG: Approach (27%), Good Drives Gained (20%), SG: BS (20%), Bogeys Avoided (16%) and GIR Gained (16%).
Alex Smalley (+9000)
Gary Woodland (+4000)
Joseph Bramlett (+11000)
Wyndham Clark (+3500)
Justin Suh (+4000)
Ben Martin (+9000)
Adam Hadwin (+2800)
Stephan Jaeger (+6500)
Nate Lashley (+8000)
Aaron Rai (+6000)
Tommy Fleetwood +2500 (DraftKings)
It was an encouraging PLAYERS Championship for Tommy Fleetwood. The Englishman was 4-over par on the front-nine of his second round on Friday, but he rallied to not only make the cut but also to have a strong weekend charge as well. Fleetwood shot 65 on Saturday before running out of gas on Sunday. 
For the week, Fleetwood gained 5.0 strokes on approach, which was ninth in the field. The performance on approach was his best in the category since the 2018 Honda Classic. The 32-year-old finished 16th at the 2022 Valspar Championship, and gained 3.9 strokes putting. The fact that he's putted well on these greens may be an encouraging sign considering he's a good putter who's struggled to get in a rhythm of late. 
It's no secret that Fleetwood has failed to convert a win on the PGA TOUR. In many ways, his career thus far has mirrored the career of Paul Casey, who was very successful on the European Tour but struggled to win on U.S. soil despite an enormous amount of talent. Casey did win in 2009 at the Shell Houston Open but was finally able to get his second win at Copperhead in 2018. This feels like an ideal spot for Fleetwood to follow suit. 
Justin Suh +3700 (FanDuel)
Justin Suh seems to be coming into his own on the PGA TOUR. He's been hot on the Florida swing with finishes of fifth (Honda), 24th (Arnold Palmer Invitational) and sixth (PLAYERS) during the three-tournament stretch. 
The rough is going to be extremely penal at Copperhead this week, which gives the 23-year-old an advantage. He hits fairways at a high clip (64%) and should stay out of trouble. In his past 50 rounds, Suh ranks third in the field in Good Drives Gained and eighth in Greens in Regulation. The rough has also been moved a bit closer to the green at the course this year, and Suh is an outstanding player around the greens.
He struggled when he first arrived on TOUR, but his short game was on full display at THE PLAYERS, where he made some great shots around the green to convert difficult up-and-downs. He gained 4.6 strokes around the green at TPC Sawgrass, which I don't see as being an outlier because of his strength in that department as a college player and on the Korn Ferry Tour. 
In a weaker field, Suh is in a prime position to turn his hot Florida stretch into his first PGA TOUR victory. 
---
Gary Woodland +4100 (FanDuel)
Gary Woodland's ball striking has been flat out superb for the better part of the 2023 season. In his past 24 rounds, he leads the field in Strokes Gained: Ball Striking. Last week at THE PLAYERS, the former U.S. Open Champion gained 4.1 strokes on approach to go along with 3.3 strokes Off the Tee. It was also encouraging to see him hit the fairway consistently as he gained 6.7 strokes in Good Drives Gained, which I consider to be extremely important at Copperhead. 
Woodland's putting has been absolutely horrific – there's no denying that. In his past five starts, he's lost an average of 4.0 strokes putting on the field per event. He'll need to figure that out if he wants to contend, but his ball-striking numbers make him worth a shot at a decent price. 
Akshay Bhatia +10000 (BetRivers)
Following a challenging stretch after turning professional as a 19-year-old phenom, Akshay Bhatia has finally earned his Special Temporary Member TOUR status thanks to a runner-up finish at the Puerto Rico Open.
Bhatia has seemingly found his footing in golf and appears to be in a great place physically and mentally. The now-21-year-old has been open about his struggles over the past two years while trying to earn his TOUR card, but things are finally falling into place.
"I know my dad is going to probably cry, and I've only seen him do it one time," Bhatia said. "It's going to be a fun week off, and I'm excited for Valspar. It's where it all started for me – my first ever TOUR event."
Both Tom Kim and Will Zalatoris earned Special Temporary Memberships like Bhatia did. I expect the smooth-swinging lefty to follow the paths of Kim and Zalatoris and blossom into a star rather quickly.
Ludvig Aberg +10000 (DraftKings)
Amateur Ludvig Aberg is another young and extremely talented player in the field this week. The Swede is currently the world's top-ranked amateur and showed that he can compete with the big boys in his most recent start at the Arnold Palmer Invitational.
Aberg finished in 24th place in that designated event which boasted an elite field with all the game's top players. The 21-year-old also showed he can grind in difficult conditions, with the winning score of the event in the single digits under par.
Aberg could make a big splash with a win at Valspar this week.